Ten Central Trade Unions to hold protest on July 3 against anti people policies of Modi government
A joint meeting of Trade Unions held under chairmanship of Com Tarsem Jodhan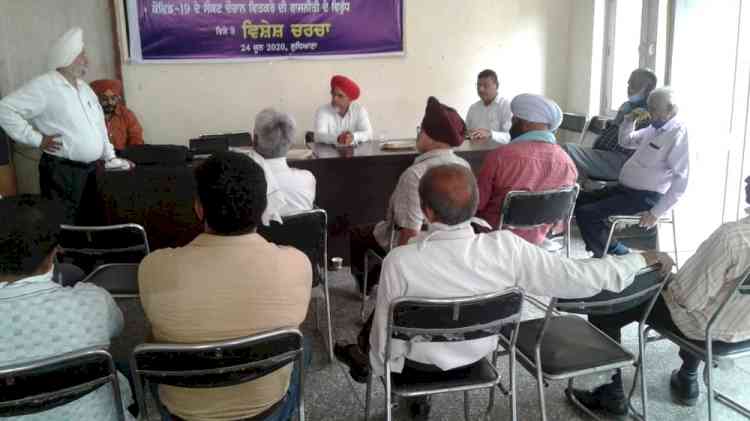 Ludhiana: A joint meeting of the trade unions including INTUC, AITUC,  CITU, CTU and TUCC was held under the chairmanship of Com. Tarsem Jodhan  by paying homage to the workers who lost their lives while on way to their native places. 
Addressing the meeting, the trade union leaders said that the government is out to change the labour laws. The BJP ruled states UP, Karnataka and Gujarat have made draconian changes in the labour laws which will make the workers virtually as slaves/ bonded labourers. Codification of 44 laws into 4 codes will lead to snatching away of 80% rights of workers. Change of timings from 8 hours to 12 hours will put excess burden on workers. By freezing of DA of central government employees and DR of  68 lakh pensioners the government has taken away 70,000 Crore rupees from their pockets. Privatization of PSUs and 100 % FDI in railways, defence, insurance,  port and dock and banking sector is total sellout of the nation's assets. Dangerous electricity bill 2020 will seriously affect the consumers.  Increase in Diesel and Petrol prices despite fall in crude oil price in international market is blatant highhandedness of the government. As a part of the nationwide protest, the trade unions will hold protest at Ludhiana on the above and other issues. 
Those who participated in discussion include Comrades  Vijay Kumar Sarabjit Singh Sarhali, Sukhwinder Singh Lotey, Paramjeet Singh, Hari Singh Sahni, Ramesh Rattan, Gurjit Singh Jagpal, Ghansham, Baldev Modgil.