Technology aided tourism is the future
Aver experts during Online Amity International Tourism and Hospitality Conference 2020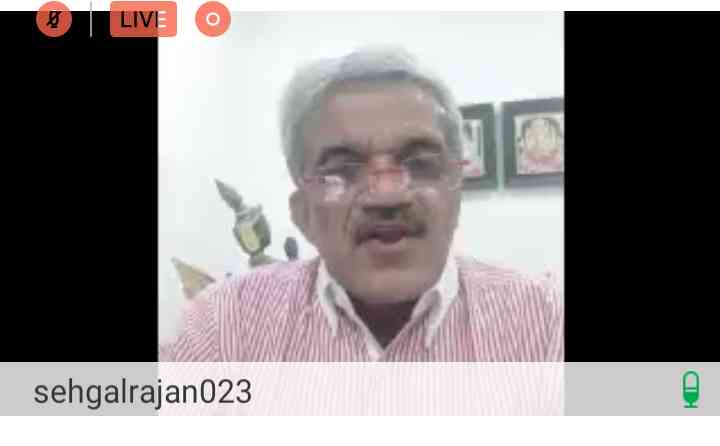 Mr Rajan Sehgal addressing at 16th Amity International Tourism & Hospitality Conference (AITHC 2020).
16th Amity International Tourism & Hospitality Conference (AITHC 2020) was organized to commemorate World Tourism Day at Amity University wherein 39 International speakers from 6 continents representing 27 countries shared their ideas and expressed their thoughts on the theme "Tourism: Building Peace! Fostering Knowledge: A Stakeholder's Perspective".   
 
Dr. Ashok K Chauhan, Founder President, Amity Education & Research Group stated that the theme of the conference is important for global harmony & peace. He suggested setting up of Amity Global Thought and Action Forum for Hospitality & Tourism and how Tourism can be promoted worldwide. 
 
Dr. Atul Chauhan, Chancellor, Amity University shared how tourism industry has a great impact across the world and announced the mission to make the Amity School of Travel & Tourism as the best among the global schools.  He stressed on how people should have a global outlook to be successful and that's why study abroad programme was initiated by Amity and it is mandatory for every student studying here to learn one foreign language. He stated that tourism plays a great role in fostering global friendship and peace and advised students of tourism to learn lessons from last six months that businesses have learnt. He asked students to follow the mantra of 'Pivot or Perish' and change with the times & develop themselves accordingly.   
 
Dr. Balvinder Shukla, Vice Chancellor, Amity University averred that industry analysts have stated that Covid has set the tourism sector back by two decades with 120 million jobs at risk. As the government gears to re-open the tourism destinations, albeit with restrictions, health & safety of tourists remain the foremost priority. She added that travellers will be more concerned about hygiene and safety in the new normal and tourist destinations and related organizations will have to give special emphasis & devise norms to address these issues. She stated that Mobile Tourism and Online Tourism will play an integral role in the future.    
 
Inaugurating the conference, Prof Kaye Chon, Dean & Chair Professor, Walter and Wendy Kwok Family Foundation; Professor in International Hospitality Management, School of Hotel & Tourism Mgt., The Hong Kong Polytechnic University shared that the industry will move towards following high-tech and low-touch owing to the effects of the global pandemic with contactless services in future. He averred that travellers these days are too concerned about health & hygiene and hotels are now sealing the rooms post cleaning and disinfecting. He stated that digital transformation is accelerating owing to Covid-19 and is calling for a thought to be given on how to transform the curriculum accordingly. With online teaching taking the forefront, future learning will be on this platform only. He stressed on research to be conducted on subjects causing impacts that will be focused upon in the future. He called for looking at opportunities posed by the dangers of Covid-19 and asked students not to give up their dreams.  
 
Prof (Chair) Michael Hall, Department of Management, Marketing and Entrepreneurship, University of Canterbury, Christchurch, New Zealand stated that Tourism does not build peace at times and can lead to cultural misunderstandings if one doesn't have a wide cultural perspective. He added that peace is imperative for tourism as it is needed for investment, stability and maintaining security. The ability to adapt is imperative in these covid times and called for building resilience in students and the industry. He stated that Covid-19 challenges are nothing as compared to the challenges of the future including climate change.   
 
Prof SP Bansal, Vice Chancellor, Himachal Pradesh Technical University and National President Indian Tourism and Hospitality Congress shared that tourism is a worldwide social and cultural phenomenon and how Covid-19 has affected the sector bringing in lot of changes.   
 
Addressing the valedictory session, Dr. Gvr Shastri, Chairman, Coastal India Development Council (CIDC) shared that knowledge and wisdom will play a powerful role in the coming times. He suggested students to explore the entrepreneurial journey and show the way to the world. He stated that domestic tourism holds immense potential and should be explored as Tourism is an extremely powerful economic engine.   
 
Mr Rajan Sehgal, Chairman, Travel Agents Association of India (NR) and President, Indian Golf Tourism Association and Co- Chair PHD Chamber of Commerce Tourism Committee averred that this crisis is a big lesson for the entire world to respect nature & strengthen one's skills. He suggested students to strengthen their multitasking abilities and be optimistic as the travel & tourism industry has bounced back from numerous crisis in the past.   
 
Ms. Sonica Malhotra Kandhari, Joint MD, MBD Group stated that hospitality has a great arena to work upon and go ahead post COVID as people are waiting to start travelling again. She called for identifying the key learning from this downturn & create the right balance between manpower and digitization.   
 
Dr (Ms.) Mamta Agarwal, Additional Secretary, Association of Indian Universities (AIU) averred that there is no better tool than tourism to build peace, economic growth and foster knowledge & cultural value. She stressed that health & hygiene will hold significant position once the tourism sector reopens.  
 
Dr. Manohar Sajnani, Dean Faculty of Hospitality & Tourism and Director, Amity Institute of Travel & Tourism shared that various best practices across the world that make Tourism and Peace go hand in hand will be compiled in a white paper post the end of the conference. He averred that destinations that have peace will attract tourism and grow economically. Dr. Sajnani stated that the conference has given ideas, direction and the agenda on how to revive the industry.