Teachers Day celebration in Amity University, Greater Noida Campus
An interactive discussion was also carried out to analyze the highpoints of New Education Policy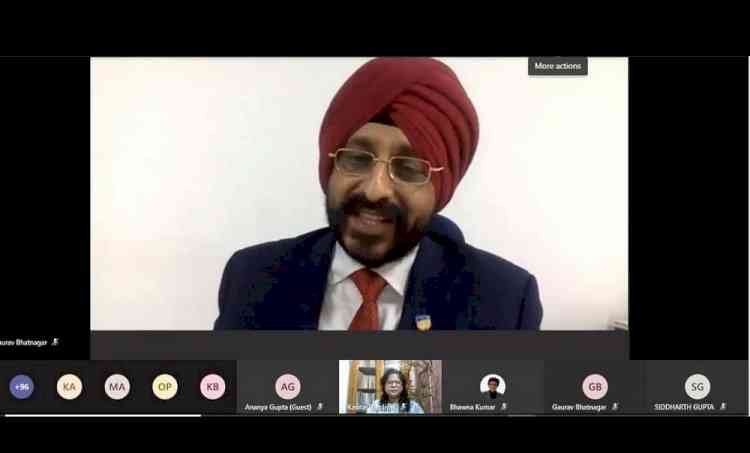 Teachers Day was celebrated in Amity University Greater Noida Campus on 5 Sep 2020 with great zeal and zest. It was a full day event with number of activities related to Teaching and Teachers being conducted. All students and faculties participated in the function heartily. All activities were aligned with the gratitude towards Teachers, Group Vice Chancellor and Senior Most Management for providing guidance 
The event commenced with Group Vice Chancellor Leading Pledge Taking Ceremony wherein, Prof (Dr) Gurinder Singh led the Pledge taking ceremony in which Group Vice Chancellor, VP's, Deans & all faculty members committed to provide best online mentoring besides taking regular classes. It was about making all efforts to provide quality academic inputs to students and help them overcome any handicap being faced by students due to Lockdown and Online classes being conducted. 
Students, even though in lockdown condition, responded to the occasion and prepared a heart touching tribute to the faculties for all the meaningful contribution made by the Faculties in providing quality academic inputs to students and equipping them with many skills. Students prepared special program to make Faculties feel special.
An interactive discussion was also carried out to analyze the highpoints of New Education Policy and haw it can help Higher Education Institutions. Detailed analysis was carried out about the changes which have been proposed in new policy and the impact it is likely to have in ease of acquiring qualification by students and how Higher Education Student need to adapt to changing guidelines.
In the spirit of equipping our students with the skills for setting up their own enterprise a Startup Centre was inaugurated to complement the vision of Honorable PM of Atamnibhar Bharat. It will not only enable the students to get guided by the faculties who will refine their plans to establish a venture, they are also guided as to how they must present their plans to Venture capitalists for financial commitment by the leading Venture capitalists for the proposed ventures. This ensures that students are able to create jobs for each other thus contributing towards the spirit of Atma Nirbhar Bharat.
Dr Singh spoke very eloquently about the efforts done by  Founder president of Amity University  to make India self-sufficient. He emphasized on integrating the needs of Industry with the education and complete implementation of the concept of Education 4.0. 

Chancellor Dr Atul Chauhan also wished all the faculty members on this occasion and called them Corona Warriors who have given their best to provide world class education, even in these Pandemic conditions