Swavavlamban Mela at Home Science College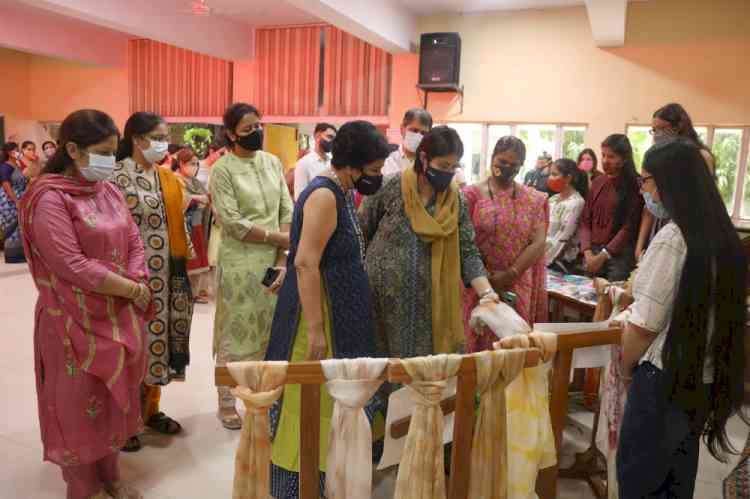 Chandigarh, September 21, 2021: In sync with Government's initiative of Atam Nirbhar Bharat, Government Home Science College organized a one- day Swavavlamban Mela in the college campus. The mission of this exhibit was to earn while you learn.
Home Scientists as young entrepreneurs showcased their skills and talents by putting up a plethora of innovative items in a large number of stalls. Dr. Palki Arora, Director Higher Education, PCS, Chandigarh Administration was the Chief guest for the event. She inaugurated the Swavavlamban Window and kick started the Mela. The major attractions of the event ranged from skin friendly organic dyed scarves and dupattas; Cosmetics (soaps, perfumes, rose water, hand sanitizers), nutritious munches including millet based innovative recipes, satvik traditional recipes, macrame decorations, home decors, puppets and cradle toys and Therapeutic diet services launched by budding entrepreneurs. The chief guest highly appreciated the efforts of all students and their creativity.
Ms Navjot Kaur, Director, Social Welfare was the Guest Of Honor of the event. She also applauded the innovative ideas of the students. The deputy director of the Social Welfare department also joined the event.
The Swavavlamban Mela was sponsored by SBI Bank and SIDBI. Mr. Rakesh Sharma, Regional Manager, SBI, also  joined the function and motivated the students to bring forward the best of their abilities and creativity.
A huge footfall was witnessed during the mela while observing all the COVID norms and safety regulations. It was a day filled with fun, innovation and creativity.
Prof. Sudha Katyal, Principal, congratulated the students for putting up a great show and showcasing their skills and expertise. The students truly earned while they learned. The principal further applauded the efforts of all faculty members and appreciated the team effort put in to make the event a huge success.