Suvyan 2023: NIIFT's Textile Design Department's students showcase breathtaking final Design Collections
Admission is open now at NIIFT centres'  and the last date of submission of applications is 4th June 2023.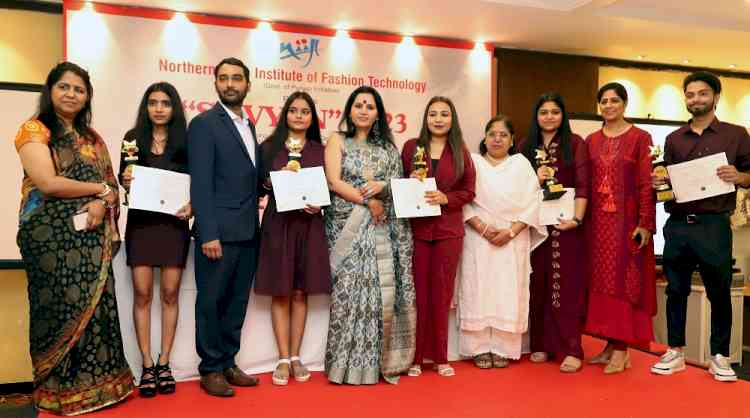 Young Textile designing students of NIIFT, Mohali received awards from the top management of the institute for their projects at Suvyan 2023.


Chandigarh,June 1, 2023: The Northern India Institute of Fashion Technology, Mohali organised  "Suvyan '23" a display exhibition to showcase the final Design Collection of the graduating students of Textile Design Department at Hotel Shivalik View, here . NIIFT also announced that admission is now  open at NIIFT centres'  and the last date of submission of applications is 4th June 2023. 
Meanwhile, the final collection showcased an integration of the learning, hard work and toil of the students of the Textile Design Department. The sense of the inspiring designs has been imbibed by the students during their course of study in the institute. Three years of rigorous learning and efforts culminate at the Annual Final Collection – "Suvyan '2023".
Through the media of colors, materials, finishes and techniques, students expressed individual statements as Design Solutions for Fabrics and Home Furnishing products etc. 
This year 'Suvyan' showcased 42 collections by the graduating students of the Textile Design Department. The collection included Apparels, Accessories and Home Furnishing products. All the products have been designed, keeping in mind the latest, trending and unique themes that the industry  demands.  
The faculty members Dr. Shweta Sharma, Dr. Deepti Sharma, Dr Meeta Gawri played a vital role in guiding and mentoring the students  to get a better outcome of their work. An eminent jury was invited to evaluate the collections after which students were awarded. The jury included prominent Textile Designers and Industry Experts comprising Mr. Sanjay Kulsheshtra (Vice President) Fabric Quality Analyst(Wovens), Nahar Fabrics and Mr. Pradeep Rattan,Director,Pihu Home Decor,Noida. 
Each student worked with an industrial client for a period of 5 months which led to the development of their individual collections and exhibition of design work. The industrial clients included Nahar Fabrics, Trident, Mittal International, Shingora Shawls, Reino Designs, Pihu Home Decor, Art Age, Jawandsons Pvt.ltd, Apex International, CTA Apparels, Valutex International and Neelambari Home and Lifestyles.

Speaking during the occasion Sh Charandeep Singh, PCS & Director NIIFT said "Suvyan is a very big platform for students and we are happy to organize it in a magnificent way. I congratulate the students for their excellent market oriented work."
Ravinder Garg, Registrar NIIFT said "The Northern India Institute of Fashion Technology (NIIFT) is set to showcase the extraordinary talent and creativity of its graduating students at 'Suvyan', a highly anticipated annual event. As the final step in their academic journey, the textile designers will present their captivating collections, encompassing a range of styles, techniques, and inspirations. 'Suvyan' promises to be an immersive experience, celebrating the culmination of years of hard work, dedication, and innovation, as these emerging designers take center stage and leave an indelible mark on the textile design industry."
Dr Poonam Aggarwal Thakur, Principal, NIIFT Mohali said "'Suvyan' is a beautiful flower in the bouquet of various events organized by NIIFT. The students work day and night to accomplish the assignment inline with International Textile industry standards. Textile Design being a very lucrative field I invite the youth of Punjab to join NIIFT."
"Suvyan has been very close to my heart as students put in their heart and soul in creating a beautiful piece of work which is ultimately recognized by the industry", said Dr. Shweta Sharma, Course Coordinator, Textile Design Department and Coordinator Suvyan.
TEXTILE DESIGN
Textile Design forms the core of the whole business of fashion. The rapidly expanding activities in the export and domestic sector of the Indian Apparel and Home Fashion Industry demands professional inputs in design and development of textiles and raw material, which is responsible for 60-80%of the cost of the product. Textile Design today is that strategic value adding activity that can make all the difference in transforming a fashion business into an economically viable and profitable proposition.
 
About the award winners and their collections:
Ishika Raheja:Interned with Mahamaya Global Pvt Ltd, Gurugram.
Project 1: 'Chikankari: The Metaphor of Needle This spring/summer 2023 collection' is inspired by Chikankari Embroidery. This project is about celebrating the artisans who are engaged in the art of chikankari . This display has a cushion collection that was very light , minimal , elegant- yet royal and luxurious. Ishika said, "I have used very neutral colors with little tones of ivory, yellow, green, blue and dusty pink . Colors are toned down to give it a very innocent and delicate look but also make it a modern collection. The collection includes premium fabrics like Linen , pure cotton , silk which are embellished with beautiful surface techniques like aari work , premium beads , authentic embroidery stitches of chikankari."
Project 2: 'Bidri Art : The Lost Art of India' - Borrowing inspiration from traditional metal craft of India called 'Bidri Art' that has been carried forward for more than 400 years .This collection brought out the elements of true craftsmanship that in itself exudes luxury. This project collection was a  luxury cushion collection with intricate designs and embroidery. Hand embroidered cushions took a minimum of 10 to 50 human hours of time depending on intricacy of design. The ensemble showcased intricately embroidered cushions which add a touch of elegance to any setting . Artisanal cushions , handcrafted with metallic gold zardozi thread , cutdana and zari thread which is set upon feather touch velvet and cotton silk. "My collection is indeed a work of art;'" added Ishika. 
Project 3: 'Suzani: The Language of Love & Pride'. The collection focuses on revivalist crafts that draw their inspiration from the traditional Suzani technique - known for their intricate detailing in all embroidered crafts, the Suzani collection centers its leitmotifs around indigenous floral elements, delicate twills and hints of paisley to draw the collection together. Soft motifs and colorful tones of this collection reminds one of the beautiful land of Kashmir. This collection is celebrating age-old techniques that represent the prestigious Indian heritage. The collection includes luxe fabrics like cotton silk , linen , feather touch velvet which are embellished with beautiful embroidery techniques influenced from classic Kashmiri Embroidery work.
Khushi Garg: Interned at Mittal International,Panipat explored hand artworks and used digital print technique for creating a home furnishing collection. 
Muskan Raj : Interned at Mahamaya Global Private Limited,Gurugram worked on on three themes , Badamwari-The garden of almond Flowers using Embroidery and Applique Technique making a collection of Cushions.Her Second Theme was inspired by Parsi Gara Embroidery and last but not the least was a Phulkari inspired collection.
Shweta Rani : Interned with Pihu Home Decor,Noida worked upon themes like Fall Nature/Easter/Thanksgiving. The techniques showcased in the collection were Digital Printing, Rotary Printing, Vectors and Free Hand Designs on various products like Cushions,Throws and rugs.
Ashutosh Kumar Jha : Interned at Shree Lifestyle Pvt.Ltd ,New Delhi worked on three themes for Digital Printed Apparels,Textures and bags with upcycled fabrics- first being the Rasleela-inspiration Pichwai Art, second theme being the Tarang for Prints and third being the Katran , the theme was showcased in the Bags collection.The technique used was upcycled fabric waste.
Textile Design Awards -
1)    BEST DESIGN COLLECTION-   Ishika Raheja.
2)    MOST INNOVATIVE COLLECTION –Khushi Garg.
3)    MOST COMMERCIAL COLLECTION- Muskan Raj.
4)    SPECIAL JURY AWARD-  Shweta Rani.
5)    BEST DESIGN METHODOLOGY –Ashutosh Jha.