Super seeder for stubble management catching farmers' eyeballs 
On second day of 3 day agri expo at Mohali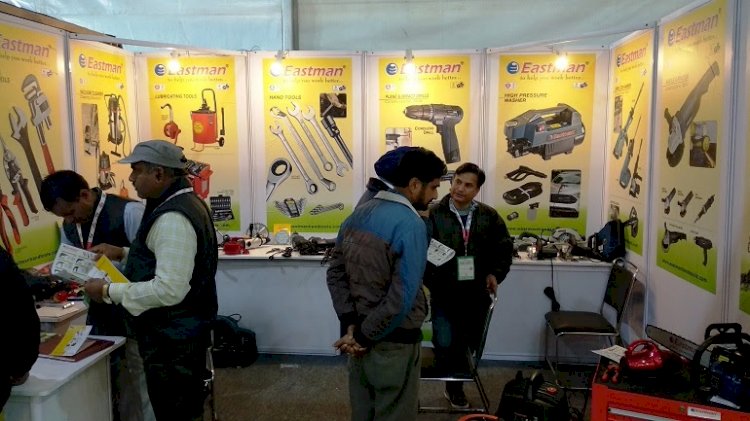 Mohali: The latest indigenous farm machinery and solutions from the manufacturing hubs of Punjab and some other parts of the country, on display in the first edition of the Indian Agri Progress Expo 2020 at the Fruit & Vegetable Market in Phase 11 (Sector 65A) Mohali, near Bestech Mall, attracted curious farmers looking to mechanise their operations in the wake of the decreasing availability of labour and to maximise productivity.

Friday was second day of the three-day exhibition and series of conferences lined up by the organisers. The importance of the event, organised perhaps for the first time on such a large scale in Punjab, could be gauged from the fact that almost the entire top team of the national body of agricultural machinery manufacturers AMMA-India, which is officially supporting the event, is camping here and actively participating in the proceedings.
The expo has been organised in association with the Punjab State Agricultural Implements Manufacturers Association (PSAIMA).
There is an entire gamut of indigenous farm machinery on display for the discerning farmers to pick and choose, plus experts from the entire region are familiarising them with latest equipments and techniques to cut down their costs and increase productivity.
The machine catching the most eyeballs is the Super Seeder, an improvement over the Happy Seeder, which is claimed to be a perfect solution to the paddy stubble woes of farmers, and costs just around Rs 50,000 more than the Happy Seeder, which, along with other alternatives, sold in the thousands thanks to the 50% central government subsidy provided to individual farmers and 80% providing to farmers' groups.
Most of the manufacturer-exhibitors have showcased the Super Seeder in their exhibits and are hopeful that the farmers of wheat and paddy will adopt it in a major way with the attractive government subsidies likely to continue.
Much sought after Punjab bureaucrat Kahan Singh Pannu, who is currently holding several key charges in the state government, including Secretary, Agriculture; Chairman, Punjab State Pollution Control Board, and Mission Director, Tandarust Punjab, informed a gathering at the inaugural session that Rs 500 crore worth of central subsidy had been distributed among the farmers of Punjab for purchase of 51,000 farm implements.
He hoped that the trend of stubble burning, especially paddy stubble, which was causing havoc with the environment, will gradually die down as a result of these subsidies and increased awareness among farmers, to which the state government was committed.  
A technical session was also held on the topic 'Government Schemes, Policies & Investments For Enhancing Farm Mechanisation' in which senior officials from agriculture departments of Punjab, Haryana, Uttar Pradesh and Bihar, besides from extension education department of Punjab Agricultural University, Ludhiana participated.
Besides the super seeders, the other farm implements on display are a wide variety of happy seeders, tractors, multi crop combine harvesters, mini combine harvesters, maize combine harvesters, knotters and balers, rakes, straw reapers, straw mulchers, rotavators, multi crop threshers, tractor driven potato diggers, planters and harvesters, hydraulic reversible mould board ploughs, fertiliser broadcasters, precision laser levellers, rotary tillers, power weeders, tipping trailers, agricultural sprayers and various garden and other tools.
Various types of 'gurs' and 'shakkars', including a medicated variety, are also up for sale along with 'amla' preparations like candies and jams mixed with herbs marketed by a farmers' interest group 'SAAHS'. An elaborate food court is serving gastronomic delights to visitors.
Among the prominent exhibitors are Kartar Agro Industries, claimed to be India's first combine harvester manufacturers (location Bhadson, Patiala), Dashmesh Mechanical Works (brand Landforce), which asserts itself as India's largest agriculture implements manufacturer (location Amargarh, Sangrur), Tirath Agro Technology (brand Shaktiman), promoted as world's largest manufacturers of rotary tiller (location Rajkot district, Rajasthan),  and Panesar Agro Tech and Panesar Agriculture Works (both located at Barnala).
There are others, including Droli Industries (Brand Basant), Moga; KS Group, Malerkotla, Sangrur; Bhagwan Engineering Works (brand Bhim), Malerkotla; KS Agricultural Industries, Malerkotla; Swan Agro, Ludhiana; KSD Agro Industries, Dhuri, Sangrur; and Jagatsukh Industries (brand Charlie), Ludhiana.
The third day of the expo on Saturday will feature a technical /Manufacturer Interaction session , with stalwarts from Agriculture Industry Including Dr B S Dhillon Vice Chancellor Punjab Agriculture University Ludhiana.