Student of PCTE Group of Institutes gets selected at package of 10 LPA 
In today's time it's a very difficult task to get a high paying job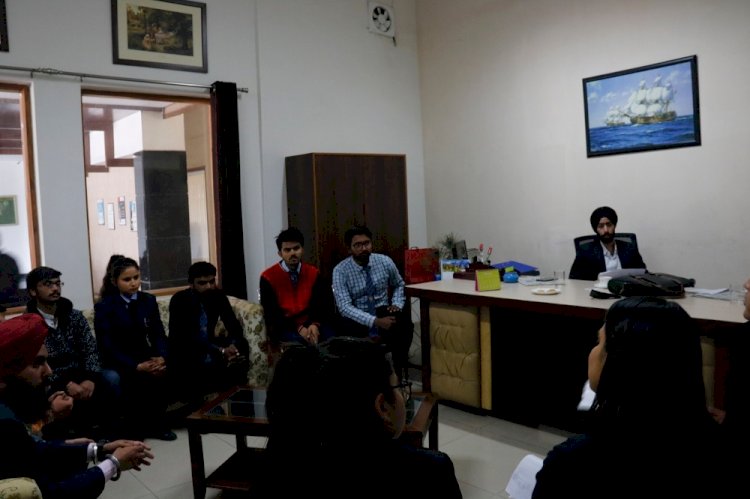 Students during the group discussion round.
Ludhiana: One more student of PCTE Group of Institutes got selected at a package of 10 LPA, making it a total of 6 students from the current having a package of 10 LPA. Rohit Dhiman of MBA-IB, Batch 2018-20 was selected in Lido Learning.  Earlier 2 students of MBA & MBA-IB with a package of 10 LPA each got placed in Lido Learning. Besides this, three more students of MBA got placed in Byju's with a package of 10 LPA.
In Today's time it's a very difficult task to get a high paying job as people are facing a lot of competition in every field. PCTE Group of Institutes feels proud and happy to have 65 companies have already visited the campus for placements in this session. Renowned organizations across the country like JK Tyre, ICICI Bank, Lenskart, PhonePe, Berger Paints, Saint Gobain, Tommy Hilfiger, Kent ro, HDFC Bank, Sundaram finance and many more have already placed our students.
Rohit Dhiman expressed their happiness and excitement over being initially selected from the campus placement.   
Dr. Gautam Bansal, Director of the institute said that the focus of MBA curriculum at PCTE is to give maximum practical exposure to the students which help them in giving a great launch to their professional career. He also mentioned that PCTE has been having excellent campus placements over the period of 2 decades with more than 130 companies visiting campus last year with an average package of Rs. 6.7 LPA.
Dr. KNS Kang, Director general congratulated the students on their success and highlighted the various initiatives including training sessions, mock interviews, guest lectures and business simulations that are being done by the institute to prepare the students for their professional life ahead.