Special Lecture by Women Studies, PU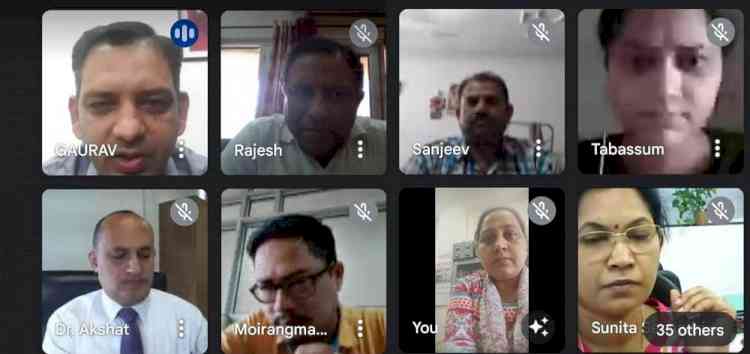 Chandigarh, October 12, 2021: The Department cum Centre for Women's Studies & Development (DCWSD) and Centre for Social Work (CSW), Panjab University Chandigarh, under the aegis of Azaadi ka Amrit Mahotsava organizex a special lecture  today on "Women in Indian Central Armed Police Forces: Status, Challenges and Prospects" by Dr. Akshat Mehta, University Dean & Associate Professor, Police Administration at Rashtriya Raksha University (An Institution of National Importance), Gujarat.
            Dr. Mehta through his holistic yet nuanced address traced the history and genesis of  women entering the police force during the pre-Independence era. He assessed the empowerment of women in Indian Central Armed Police Forces (CAPF) and analysed the status of police women in terms of their strength and position in the hierarchy. He further articulated that the number of Women personnel in CAPFs is a mere 3.32%, which is almost 1/3rd of the numbers as far as overall data on Women in India Police is concerned (10.30%) as per the Bureau of Police Research & Development, 2020 report. He lauded the comprehensive efforts made by CISF in this regard and welcomed the remedial steps undertaken by BSF, CRPF, ITBP, SSB among others. In particular, he was appreciative of NSG - the elite commando force, which is ushering in the winds of change by being more inclusive for women. 
 
            The strength of women in CAPFs also need to be seen from the prism of gender lens, as placement of women in the organizational hierarchy. The BPR&D data revealed that almost 82% of women in CAPFs are at the junior ranks of Constables and Head Constables only. He strongly reiterated that the issue of hierarchical distribution of women across ranks needs to be addressed for strengthening women empowerment in the truest sense of the term.
 
            Dwelling upon the multi-faceted challenges being faced by women in terms of mindset, manifestation of masculinity, societal barriers, institutional practices, behaviour of fellow men and women police personnel, glass ceiling, gender stereotypes,  he deliberated upon several key prospects including those emerging from dedicated efforts being made by the Union Ministry of Home Affairs, the Ministry under which CAPFs function. He concluded by stating that there are clear signs of strengthening of quantitative as well as qualitative indicators regarding empowerment of women in CAPFs, and motivated the students and researchers of both DCWSD and CSW to contribute towards the endeavour of gender sensitization and inclusive society.
            Earlier Dr. Rajesh Kumar Chander, Chairperson, DCWSD, in his welcome address emphasized the need for more Multidisciplinary research and special lectures as new knowledge lies at the intersections of disciplines. He further briefly highlighted the achievements of the Department in the realm of Women's Studies & Women Empowerment.
 
            The erudite discourse concluded by a formal vote of thanks from Dr. Gaurav Gaur, Chairperson, Centre for Social work and the rich deliberations comprised of participants from NIPCCD, various faculty members ranging across the disciplines like Women's Studies, Social Work, Laws, Management, English language, Sociology, and Police Administration, to name a few.