Sony SAB presents `Vanshaj': A compelling family drama with political intrigue and a female heir's journey to claim her right to succession
Vanshaj' premieres on 12th June, airing Monday to Saturday at 10 PM on Sony SAB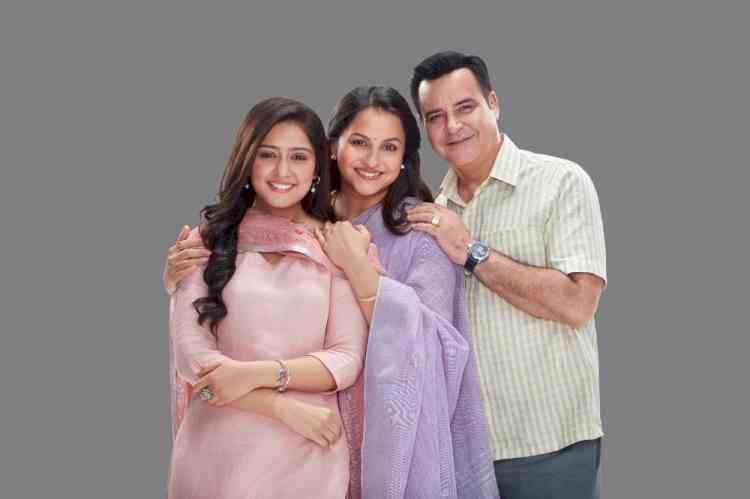 Sony SAB, a channel that continues to make a mark as the destination for meaningful, good quality content and known for bringing stories that resonate with viewers partners with Siddharth Kumar Tewary's - Swastik Productions one of India's premier media house recognized for their impactful & differentiated storytelling,  is set to premiere Vanshaj a family drama that spotlights the issue of inheritance by male members of a business family versus the role of capability in deciding the heir. 
The story unfolds as the female lead character Yuvika (played by Anjali Tatrari) challenges the age-old norms of succession and stakes a claim based on capability to helm the Mahajan family's legacy business. Premiering on 12th June, at 10 pm the show promises to make the viewers reflect on the patriarchal approach of the Mahajan family and their interpersonal dynamics as well as the fierce and political business dynamics. 
 
Bhanupratap (played by Puneet Issar), the head and patriarch of the Mahajan family, adheres to the traditional succession plan by selecting the apparent male heir to assume control of the family enterprise. However, the entry of Yuvika, their estranged family member and an equal contender for leading the family business, adds an entirely new dimension to the narrative. Yuvika's arrival prompts thought-provoking questions as she challenges established gender and societal norms, daring to ask why she cannot be the face of the illustrious Mahajan empire.
 
Helmed by Swastik Productions and their formidable team and an impressive ensemble cast, including noted actors such as Gurdeep Punjj, Mahir Pandhi, Akshay Anand, Kavita Kapoor, among others, 'Vanshaj' guarantees to capture the audience's imagination with its gripping narrative and unexpected plot twists, ensuring viewers remain engaged and on the edge of their seats throughout this differentiated family drama.
Neeraj Vyas, Business Head, Sony SAB
"As Sony SAB continues its journey as a differentiated entertainment channel, our focus is on creating narratives that reflect on the society and leave a profound impression on the audience, forging a strong bond between our shows and viewers. Being the home for 'good content', we are focusing on content that is thought provoking while being entertaining. Many stories celebrate successful women, but 'Vanshaj' goes beyond that to explore the struggles and challenges they face behind their accomplishments. We hope that by watching shows like 'Vanshaj,' the audience can see the powerful impact we have by sharing stories like these."
Siddharth Kumar Tewary, Founder and Chief Creative, Swastik Productions
"We are thrilled to be introducing yet another impactful and inspiring concept for our viewers. Swastik Productions has always been a pioneer in capturing social & relevant issues through emotions  and a realism that completely captivates the audience. A family saga, "Vanshaj", intricately explores the dynamics of business succession and familial inheritance, adding an underlying tension to the narrative. A modern story set across 2-3 generations, it brings forth the multiple shades of human nature battling for a legal & rightful inheritance. It sheds light on the actual issues of capability versus the patriarchal mindset. 'Vanshaj' is a series very close to our heart. The entire team of Swastik has worked long and hard on the project– I am confident that "Vanshaj" will become one of the most addictive show with the viewers."
Actor Anjali Tatrari as 'Yuvika'
"I am honoured to be entrusted with the role of Yuvika, a determined young woman who confronts formidable trials in life. I eagerly anticipate the opportunity to portray her transformative journey on-screen as she navigates through this profound phase. Yuvika's character resonates deeply with the challenges faced by women whose positions are often questioned in various situations. I am thrilled to breathe life into her character and infuse it with depth and authenticity. My sincere hope is that the audience will embrace our show, forge a connection with my character, and thoroughly enjoy watching her story unfold."
Actor Puneet Issar essaying 'Bhanupratap'
"As one of the esteemed elders within the family, Bhanupratap bears the weighty responsibility of safeguarding the integrity of the empire, even amidst the complexities of familial dynamics. While delving into the character, I discovered a profound personal connection through his values and distinctive perspective on life. I am sincerely thrilled to embark on this exhilarating journey and make my contribution to the narrative of 'Vanshaj'."
Will Yuvika be able to claim her rightful position in the family and the business? To find the answer to this question, tune in to Sony SAB, 12th June, onwards at 10 PM every Monday to Saturday.