Solid waste management plant to be set up in all villages of Doraha Block
Punjab Water Supply and Sanitation Department approves Rs 2.97 crore for this project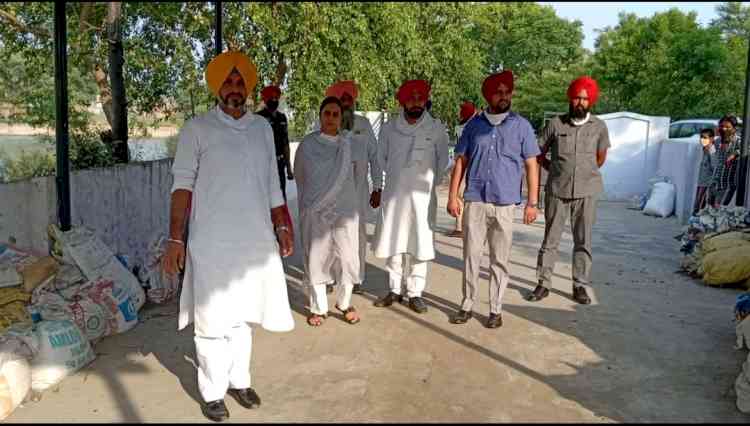 Doraha (Ludhiana): While approving of the great work being done for management of dry and wet solid waste in block Doraha, the Water Supply and Sanitation Department of the Punjab government has decided to develop Doraha as a Model Block. For setting up solid waste management plants in all villages of Doraha Block, the department has sanctioned Rs 2.97 crore.
    While addressing a press conference here today, Payal MLA Mr Lakhvir Singh Lakha said that by using the Panchayat Funds as well as MGNREGA, this project has been implemented in 13 villages of Doraha block. He said that the project is already running successfully in 7 villages, while work would start in 6 others shortly. Besides, this project would be started in all villages of the block in next 15 days time.
    Mr Lakha said that Doraha is not only the first block of state, but of North India that has been chosen for this important project. He said that with the help of this project, high quality organic manure is being manufactured by using dry and wet solid waste. He said that by selling this manure, the Panchayats have started earning, besides it has also generated employment avenues in the villages. He said that this organic manure is also given free of cost to the small farmers, besides it is also being sold to the Forest and Horticulture Department. They also plan to start sale of this manure through the self help groups.
    BDPO Doraha Mrs Navdeep Kaur informed that this organic manure is certified by the Punjab Agricultural University. She said that this project is also leading to women empowerment.
    The 13 villages where this project would be implemented include Daumajra, Aloona Tola, Landa, Bharthala Randhawa, Chankoyian Khurd, Ghaloti, Afzullapur, Rauni, Kotla Afgana, Ghangas, Mahpur, Majri and Ferozepur.
    Block Samiti Chairperson Shivdeep Kaur Daumajra, Vice Chairman Sukhdev Singh Buani, Jasvir Singh Daumajra, Block Congress president Gurwinder Singh Tinu, besides several others were also present on the occasion. Later, the media persons were also shown this project at village Landa.