Solar rooftop power plant inaugurated at SCD Government College
This solar power plant is under the Smart City Project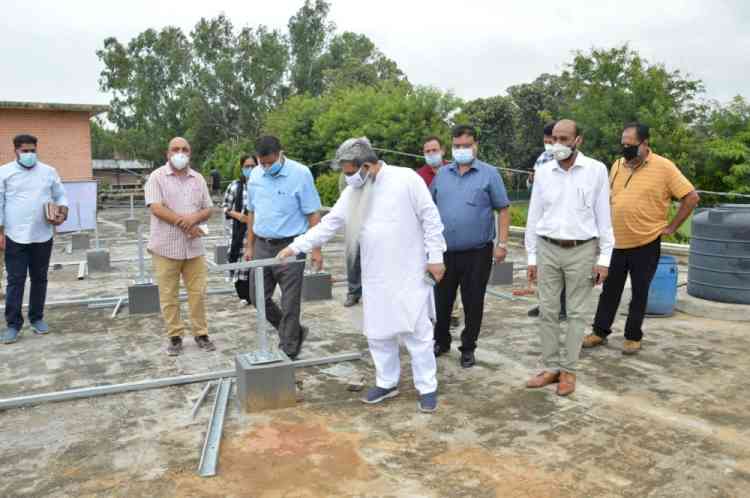 Ludhiana: Cabinet Minister Bharat Bhushan Ashu inaugurated the Solar Rooftop Power Plant at SCD Government College,  Ludhiana on 21st August, 2020 as part of the Centenary Celebrations of the college. Social distancing was strictly followed during the inauguration. Balkar Singh Sandhu. Mayor MC, Ludhiana and Pardeep Sabharwal,  Commissioner, MC, Ludhiana were also present.

This Solar Power Plant is under the Smart City Project.

The Solar Plant is of 150 Kilowatts at a cost of Rs. 75 lakhs. It will provide 600 units of electricity per day.

Ashu congratulated the Principal, staff and students of the college on the occasion of its Centenary and said that it is his dream to make Ludhiana one of the Smart Cities of the country. Moreover, in today's time when the state of Punjab is facing acute energy crisis, we as conscious citizens of the nation must try to be self- reliant and produce our own electricity from the largely untapped solar energy. This will also empower us to face the difficulties caused by the pandemic.

The Principal Dr. Dharam Singh Sandhu said that the college is spread over a huge campus and more than 5000 students are enrolled in the morning and evening batches. A total of 11 PG courses are run along with BA, B.Sc, B.Com, BBA, BCA, and Finishing School. Smart Classrooms facilitate learning through ICT. The college has also recently constructed a new Boys' Hostel with increased occupancy and a new block has also been constructed in the Girls' Hostel. In addition, Government College East is also functioning in this campus as its own building is under construction. Further, for the last couple of years the admission process in the college is being conducted through the online mode. Hence, all this has led to an increased consumption of power. The new Solar Power Plant will bring us great relief in drastically cutting down our electricity bill besides making the campus still more eco-friendly. He also informed that the college already has successfully functioning solar powered lights. He thanked Ashu for his generous gift to the College and said that this will help the college to become more self - reliant.