Shradhanjali given to Arun Jaitley
PU Vice Chancellor Prof. Raj Kumar initiated the proceedings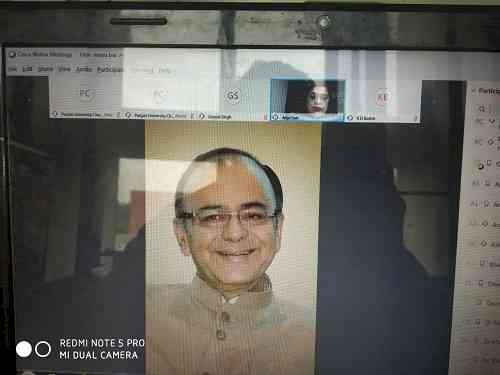 Chandigarh: Panjab University Chandigarh under Doctor Bheem Rao Ambedkar Centre organised first punyatithi shradhanjali in the sacred memory of Shri Arun Jaitley, Former Finance Minister. 
PU Vice Chancellor Prof. Raj Kumar initiated the proceedings while offering his salutation to the great personality of Shri Arun Jaitley . He shared with the audience how he has personally  learned many things from the personality of Shri Jaitley  who was always eager to help others. He commended various economic reforms like disinvestment of non performing PSUs, demonetisation, GST and Indian bankruptcy Code which have helped Indian economy to undergo structural reforms to help its millions of citizens. 
Shri Satyapal Jain ji, Additional Solicitor General Government of India , shared his life anecdotes with Shri Arun Jaitley whom he had personally known for last 45 years. He remembered his contributions in various fields ranging from Student politics to legal representation in the court rooms. He finds him  as a person  who was always ready  to sacrifice anything for his noble ideals. He also highlighted how as a product of public movement against the Emergency, Shri Arun Jaitley always remained connected to the grassroots. 
Shri K D Batish, Advocate High Court, Himachal Pradesh remembered Shri Arun Jaitley as a personality par excellence who was honest to the core and always ready to help others. He praised his acumen as an advocate.
 Professor Anju Suri, Chairperson, department of History , conducted the proceedings and eugolised the personality of Shri Arun Jaitley ji. Dr. Gurpal Singh offered vote of thanks whereas Dr. Monica welcomed the guests and Dr. Shiv Kumar Dogra highlighted the achievements of Shri Arun Jaitley.