"Show Your Gratitude Activity" held in Kindergarten wing
Ivy World School organized the event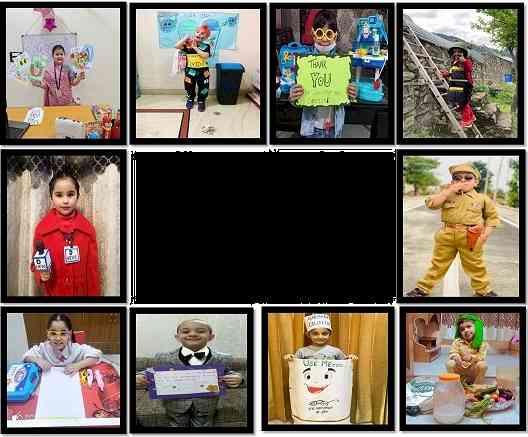 Jalandhar: Ivy World School, under the ageis of the Vasal Education Society organized the "Show Your Gratitude Activity" in the Kindergarten wing.
With an aim to stimulate   imagination and enhancing their social development skills, young Ivyians celebrated 'Community Helpers Day' virtually with great pomp and show. The celebrations began with a special awareness message about the community helpers and the kind of roles they play in our daily live. 
Splendid show was put up, wherein children chose their favorite helper and demonstrated  with great confidence and  a smile. Students were  dressed as a doctor, nurse, fire-fighter, policeman, teacher, baker, etc. to act out  their responsibilities and display their contribution to our society.
Proceeding with the celebrations, the children also performed role plays modeling  front line workers with deep interest  to show much gratitude for their selfless contribution in todays Covid- 19 trying times, It could be seen in their initiative of proper dressing, and use of props as well as creation of helper tools, etc.
This activity helped them in building confidence and respect for the people who make our lives easy with their vast services. Moreover, this gave them an opportunity to understand the world around them and know their place in it as well and also  harnessed the oratory skills of tiny tots. 
.  
Mrs.S. Chauhan, Principal, Ivy World School congratulated and appreciated the support and cooperation given by parents and was also full of praise for the participants. The President of Vasal education Society, Shri K K Vasal, The Chairman Mr. Sanjeev Kumar Vasal, The Director Mrs. Ena Vasal, and The CEO Mr. Raghav Vasal appreciated all educators for creating and using such platform to effectively represent their aptitude and flair for English speaking.