Seminar on political socialization of students in contemporary scenario at PU        
Keynote speaker was Prof. Amarjit Singh Narang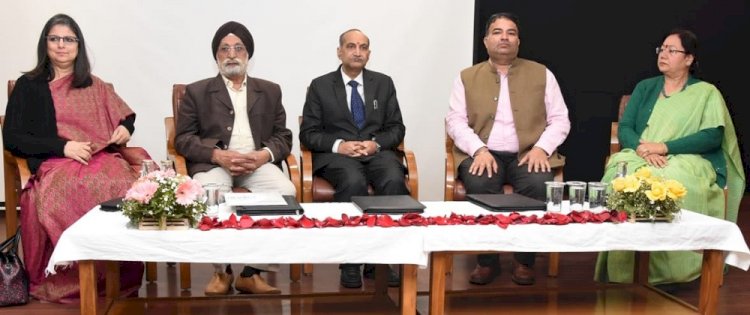 Chandigarh: A two day National Seminar on "Political Socialization of Students in Contemporary Scenario" organized by Centre of Academic Leadership & Education Management (CALEM), Department of Education in collaboration with University School of Open Learning (USOL) and Department of Defence and National Security Studies, Panjab University, Chandigarh kick started today. 
The keynote speaker Prof. Amarjit Singh Narang said that "Westernization is the biggest threat and challenge to the non-western societies including India".  Addressing the gathering of students and teachers, Prof. Narang drew the attention towards seductive but damaging effects and influences of globalization, operating through the mechanisms of privatization, massive marketization and corporatization, which results into massive inequality and the oppression of the marginalized. As responsible citizens, students must equip themselves with critical consciousness so that they may contribute in subverting the devastating effects of globalization. The Keynote speaker also spoke about the role of various institutions as family, school, media etc. in Political socialization. 
Prof. Shankarji Jha, Dean University Instruction and officiating Vice Chancellor and the Chief Guest, spoke of LPG i.e. Liberalization, Privatization and Globalization as  threats to Indian Cultural values and ways of life. Prof. Jha  gave an Indian perspective of the political values embedded in Kautlilya's Arthshastra. 
The CALEM Convener, Prof. Jitender Grover introduced the theme of the seminar and its significance. 
Prof. Madhuirma Verma, Chairperson, USOL welcomed the dignitaries, organisers and participants of the Seminar. 
In the technical  sessions, such topics as 'Contextualizing Political socialization among students' and the 'Role of Educational Institutions in Creating Political Consciousness among Youth' were deliberated upon by such seminal speakers as Ex-DUI, Prof. Bhupinder Singh Brar, Prof. Pampa Mukherji, Prof. A.S. Ahluwalia, Prof. Navdeep Goyal etc. Each session concluded with elaborate discussions.