Second Day of NSS Camp focused on healthy living, yoga and swach bharat pakhwada
The second day of the camp ended with the participation of NSS volunteers in the cleanliness drive on the campus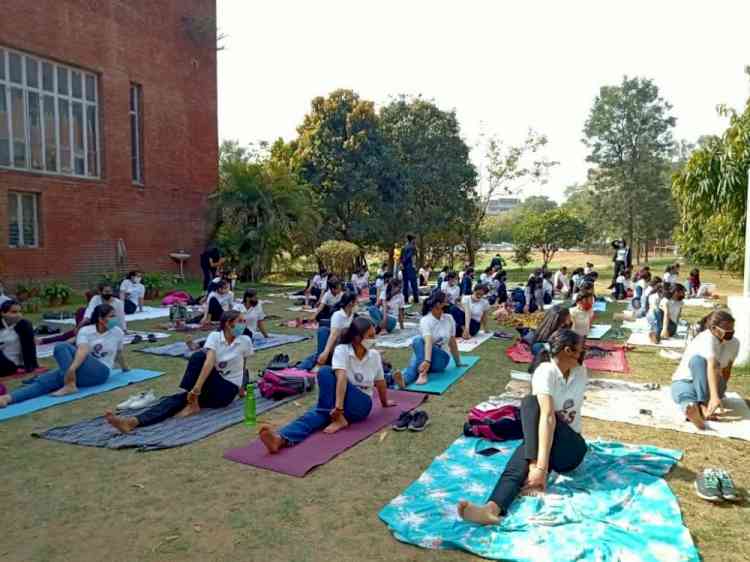 Chandigarh: The first session of the second day of Seven days of special NSS Camp started with Yoga for Mental Health by yoga instructors from the Government College of Yoga Education & Health, Chandigarh. Through the practical demonstrations of multiple asanas such as Pranayam, Kurmasana, kursiasana, students were informed about the physical and psychological benefits of yoga in day to day life. 
For the subsequent session, two resource persons i.e. Ms. Indu Aggarawal (a visionary entrepreneur, philanthropist and life-coach) and Mr. Vikas Behl (Health Consultant) deliberated upon the idea of "Your Health Our Mission" and focused extensively on the physical, emotional, intellectual, mental and spiritual wellbeing of the various stakeholders in the society. Mr. Vikas Behl in his introductory remarks foregrounded the integration of Ayurveda, Yoga and Meditation as a necessary panacea for the overall wellbeing of the people. Following a similar trajectory, Ms Indu Aggarwal, co-founder of Disha for Success as well the chairperson for Disha for India foundation and Educational Trust, specifically focused on healthy living and emphasized that health is not merely a freedom from disease rather it is a state of complete well being. Talking about the ill-effects of modern lifestyle, unhealthy food habits and stressful living, she strongly emphasized to bring massive transformations in our life-style with the adoption of regular exercise, healthy eating habits and meditation as part and parcel of our life. 

Propelling the initiative of "Swach Bharat Pakhwada" by the Government of India, the second day of the camp ended with the participation of NSS volunteers in the cleanliness drive on the campus. Students were further informed about the segregation of degradable and bio-degradable waste.
Emphasizing the dire need of following a healthy lifestyle, yoga and Ayurveda for our social and spiritual well being, the principal of the college, Prof. Sudha Katyal, applauded the efforts of the students and motivated them to imbibe the spirit of service for humanity or humanitarian cause.