Science City celebrates World Earth Day
Around 175 students from all over Punjab participated in the program through virtual mode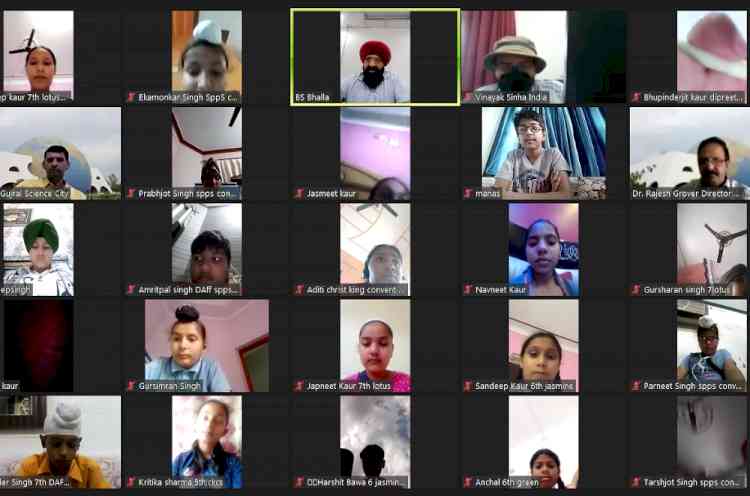 Kapurthala: 
Pushpa Gujral Science City celebrated World Earth Day by organizing a webinar. Around 175 students from all over Punjab participated in the program through virtual mode. The theme for World Earth Day 2021 is "Restore Our Earth".
Dr. Rajesh Grover, Director, Pushpa Gujral Science City giving introductory remarks at the occasion said that focus of this year theme is on natural processes, emerging green technologies and innovative thinking that can restore the world's ecosystems. The pandemic that nearly every country is still dealing with is a harrowing reminder of how badly world's ecosystems are damaged. The pandemic has reminded us of the fragility of the world, our societies and economies, as well as, the need to protect ourselves from disasters including climate change and ecosystem destruction. He  asserted that if we all put our best foot forward and take concerted action to find better solutions to restore our planet then we can expect certain rewards in the future. Further he said that, said that every year, 22nd April is celebrated as "World Earth Day" to increase public awareness on the environment. He urged the participants that Earth day should be used as a powerful catalyst to involve people in making a difference towards a healthy, prosperous and sustainable future. The celebration reminds us to protect the Mother Earth in every possible way. /(April 22, 2021)
Dr. Vinayak Sinha, Associate Prof., Department of Earth and Environment Sciences, IISER, Mohali was the key speaker at this occasion. Delivering a talk at the occasion, he demonstrated the basic concepts of atmospheric chemistry and air quality. He informed that combination of emission sources, atmospheric chemistry and meteorological conditions can collectively drive adverse air quality. Further, research conducted by the atmospheric observatory setup at IISER, Mohali was helpful to identify and quantify the fire emissions and air pollution in North India caused due to stubble burning, he added.