Sahir Ludhianvi was a revolutionary poet and a voice of oppressed
Sahir was a champion of nationalism, secularism and socialism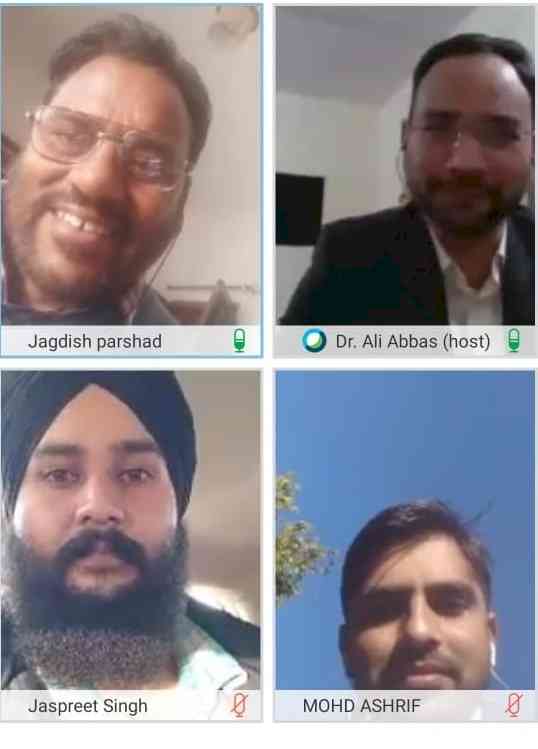 Chandigarh: Department of Urdu, Panjab University, Chandigarh organized a National Webinar on Legendary Poet Sahir Ludhianvi, who was a National Poet of Revolution and Romance combined in one and who raised his voice in support of oppressed and exploited sections of the society.
Dr. Abid Husain Haideri, Principal, M.G.M Post Graduate College, Sambhal, U.P. in his special lecture, said that Sahir had not only enriched the glorious traditions of Urdu Literature through his lyricism but also injected an art to use the medium of literature to serve as an eye opener of human society as a whole. He added that his poetic note presents a fine portrait gallery of emotional and philosophical illustrations of human life.
Dr. Haideri said that Sahir was a champion of Nationalism, Secularism, Socialism and the torch bearer of "Taraquee Pasand Tehreek."
        
Dr. Ali Abbas, Coordinator of the Department of Urdu while presenting vote of thanks said that Sahir was blessed with the courage of conviction and his evergreen poetry, highlighted the miserable and pitiable plight of peasants and labourers, women and children through his lyrics, ghazals and nazams.
He added that ow is the time to spread Sahir's message of Love and Compassion in every mind and heart for the benefit of human beings.
.