Sadbhawana Diwas pledge taken by PU VC
Dr. Manisha Sharma, Warden of Girls hostel number 6 also took the pledge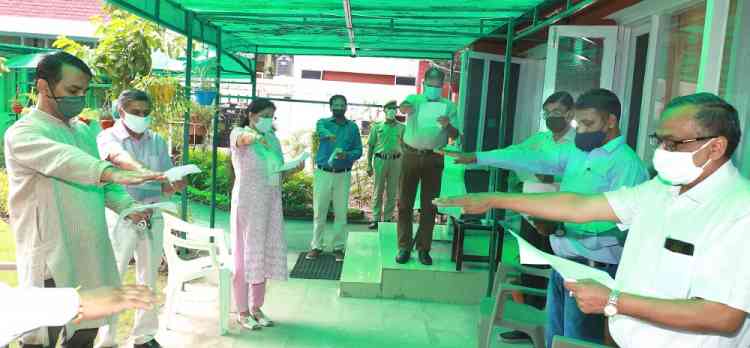 Chandigarh: A Pledge taking ceremony for observance of Sadbhawana Diwas was held at VC office of Panajb University. Prof Raj Kumar, Vice Chancellor took the pledge  to work for the emotional oneness and harmony of all the people of India regardless of caste, region or language and resolve all differences through dialogue and constitutional means without resorting to violence in the presence of Prof. R.K. Singla, Dean of University Instructions, Prof. S.K. Tomar, Dean Student Welfare(DSW), Prof. Sukhbir Kaur DSW(W), Prof Devinder Singh,Deptt of Laws and the staff.

Similarly, Dr. Paru Bal Sidhu, Chairperson Department of Ancient Indian History, Culture & Archaeology and  Dr. Paramjit Singh Kang,  Department of Life Long Learning & Extension, Panjab University took the pledge in the presence of the teaching/non teaching staff.

Dr. Manisha Sharma, Warden of Girls hostel number 6 alongwith the staff of the hostel also took the pledge.