SAD-BSP demands arrest of Ravneet Bittu for making casteist slurs against Dalit community
Submits complaint against Bittu to the Ludhiana Police Commissioner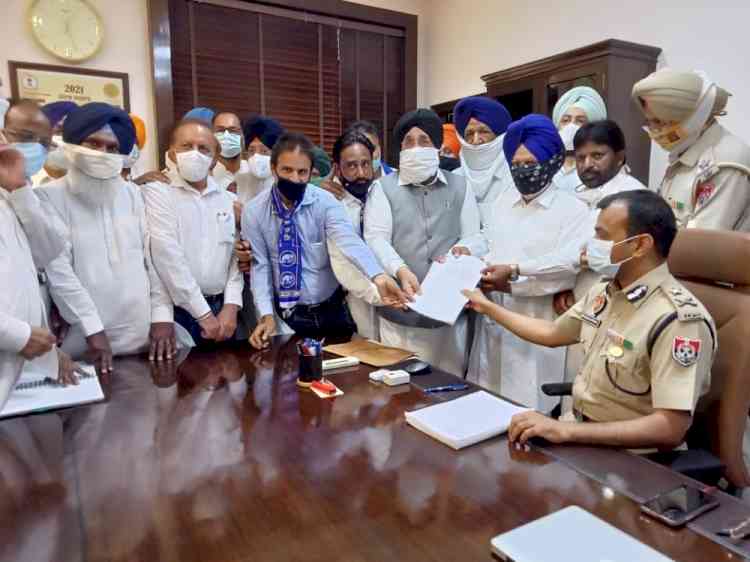 Ludhiana: The Shiromani Akali Dal (SAD) - Bahujan Samaj Party (BSP) today submitted a complaint against local MP Ravneet Bittu demanding registration of a case against him as well as his immediate arrest for making casteist and defamatory comments against the Dalit community.
The complaint was submitted to the Police Commissioner here by a delegation of SAD-BSP leaders.
Giving details, senior leaders Charanjit Singh Atwal and Gulzar Singh Ranike disclosed that the delegation demanded that a case should be registered against Ravneet Bittu under section 295 (a)  for hurting the sentiments of the scheduled caste community. He said the delegation brought it to the notice of the Commissioner that conclusive evidence was already available against Bittu in public realm and that the police should not try to save him simply because he belonged to the Congress party.
Senior leader Dr Daljit Singh Cheema said it was clear that Bittu had deliberately slandered the Dalit community to please his political masters by questioning why the holy seats of Anandpur Sahib and Chamkaur Sahib had been given to the BSP under its alliance with the SAD. "Bittu has effectively stated that holy seats have been given to unholy persons. This is intolerable as it goes against the constitution which guarantees equality to all and is also against Sikh ethos and culture".
Dr Cheema said Bittu had represented Anandpur Sahib Constituency as an MP and knew about the history of the area. "He knows that it was at Anandpur Sahib that Sri Guru Gobind Singh chose persons from the oppressed sections of society to create a casteless and classless society. It was also at Anandpur Sahib that the Guru made the proclamation 'Rangretta Guru ke beta' when the severed head of Sri Guru Tegh Bahadur was presented to him by Bhai Jaita. Bittu also knows that it was at Chamkaur Sahib that Guru Sahib gifted his 'kalgi' to the Dalit community. In the light of these facts it is clear that Bittu deliberately insulted the sentiments of the Dalit community".
BSP leaders Gurmail GK and Jeet Ram Basra  while condemning the shameful conduct of Ravneet Bittu the MP was trying to spoil the atmosphere in the State by flaring sentiments with his inflammatory statements. They said it was shocking that the Congress government was dragging its feet on the issue and had not taken any action in the matter till now. The leaders said in case due action was not taken against Bittu and he was not arrested the BSP would intensify its agitation to secure justice in the case.
Others leaders present on the occasion included Maheshinder Singh Grewal, Hira Singh Gabria, Sharanjit Singh Dhillon,Pawan Kumar Tinu, Manpreet Singh Ayali, S R Kler, Harcharan Singh Gohalwaria, Ranjit Singh Dhillon, Gurmeet Singh Kular and Isher Singh Meharban. (June 17, 2021)