RGUKT held flash mob to create awareness about its forthcoming program 'Antahpragnya-2020
India's biggest rural technical festival to be held at RGUKT, Basar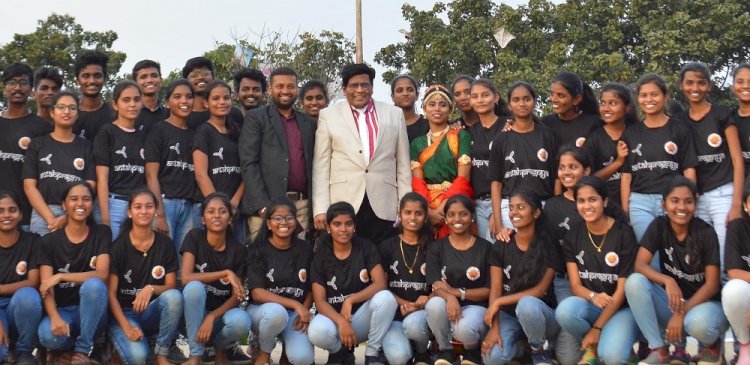 The Students Of RGUKT performed flashmob to create awareness of Antahpragna 2020.
Hyderabad: RGUKT (Rajiv Gandhi University of Knowledge and Technologies), Basar, today organised a Flashmob here in the city at People's Plaza, Necklace Road Hyderabad.
 
Dr. A. Ashok, IAS, Vice-Chancellor of RGUKT was the chief guest.
 
70 boys and girls participated in an hour-long Flash mob, which was organized to create awareness about  its forthcoming program Antahpragnya-2020, a National Level, India's Biggest Rural Technical Festival to be held at RGUKT, Basar on January 31st, February 1st and 2nd.  14 Departments of the college will exhibit 700 plus models at the Antahpragnya 202 informed Dr. A. Ashok.
 
The sixth edition of the University, it is their one of the signature events that comprise of technical, literary, entrepreneurial, fun, cultural activities. 
 
RGUKT is the first ICT based University in Telangana for rural meritorious students. The main aim of Antahpragna 2020, says Dr. Ashok, is to spot and encourage rural tech innovators
 
The theme of the biggest ever National Rural Technical Festival is to 'spot and encourage rural tech innovators', Dr Ashok added. 
 
Antahpragnya, the Rural Technical Fest is very unique. Some of the best brainy students study in rural areas will participate. We need to nurture these innovative brains by creating an ecosystem. This platform can be used by them to apply technology to simple human tasks and create some of the finest and most eco-friendly products and equipment shared Mr. Swapnil Jangale, Convenor.
 
A total of 300 plus prototype working models created by 4000 rural ignited minds from the RGUKT varsity and outside are presented as part of the program, while 200 different colourful events will be organized. Nearly 50000 people from nearby places and other colleges are expected to witness the Three Day National Level India's Biggest Rural Technical Festival added Mr. Haribabu, Co-Convenor. 
 
Thousands of Students belonging to reputed colleges across the length and breadth of India are taking part in the event.
 
 Some of the events include  Virtual Reality, Hologram, Robo Race, Development of Ideal Village Project; Robo Soccer, Sci-Fest(a National Science Fair), Campus Farming Competition etc and others.