Recognition award bestowed on PU by Heartfulness Institute, Kanha Shantivanam, Hyderabad
On behalf of PU, the award was received by Prof Nandita Singh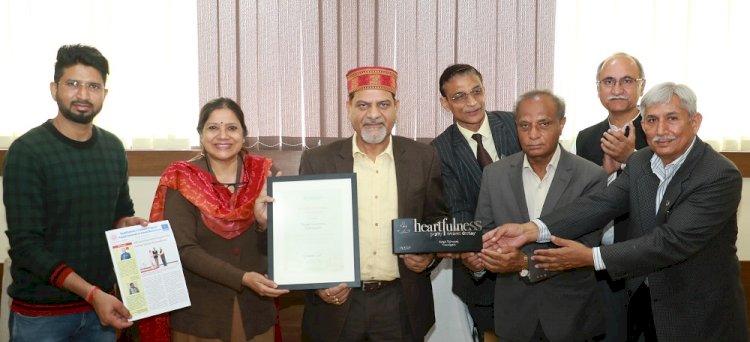 Chandigarh: Recognition award was bestowed on Panjab University by the Heartfulness Institute, Kanha Shantivanam, Hyderabad at a large function held at Hyderabad by Sh US Bajpai, former IG of Uttar Pradesh and General Secretary of Shri Ram Chandra Mission for its efforts for Youth Empowerment by way of  U Connect Program (Self Development Certificate Course) which had been running from last six years, successfully at PU.
On behalf of PU, the award was received by Prof. Nandita Singh, Dean International Students, PU and Prof. O.P. Katare, former Director Research Promotion Cell. They have been Coordinating this program for the students of various departments across all disciplines. 
of the Programme.
Prof. Raj Kumar, Vice Chancellor, PU released a newsletter related to all the  Self Development Programmes held till now and applauded the team efforts of all who have working with missionary zeal in bringing impact on the mindsets of the Youth which is the biggest challenge in today's time. He urged SRCM and PU Coordinators to associate Scientists, Engineers and Corporates for mental health and excellence.
Prof. Nandita quoting Swami Vivekananda said that education is the manifestation of divinity
which is within all of us and through these self-development programmes our objective has been to take students on a spiritual journey where the realise their own potential. Students from various departments are finding it useful in making them mentally stronger  and better performer in all directions and dimensions of life.
The students who have been part of the programme shared their wonderful and enlightening experiences which were motivating and help them to see the things from new perspective. Also, meditation, helped them in good mental health. The Self Development Certificate Course has been effective in promoting a new dimension, of INNER PERSONA  the very basis of strong character and personality wherein ancient Indian philosophy of yoga and meditation is so beautifully integrated with their pursuits for excellence and perfection. The programme includes various sessions by eminent experts on  emotional strength, stress, time management, intuitive intelligence, heartful communication, attitude building, the art of decision making, leadership through evolving consciousness. 
The program was attended by the UIAMS faculty where the latest edition of SDP is going on. Along with them the faculty of the program Prof BS Bhoop, Prof Latika Sharma and Executive members of Chandigarh chapter of SRCM were present.