Rana Sodhi fulfills 15 years old demand of villages by laying foundation stone of Rana Channel Link
Project worth Rs. 1.74 Crore to provide irrigation water to 2000 acre-farmland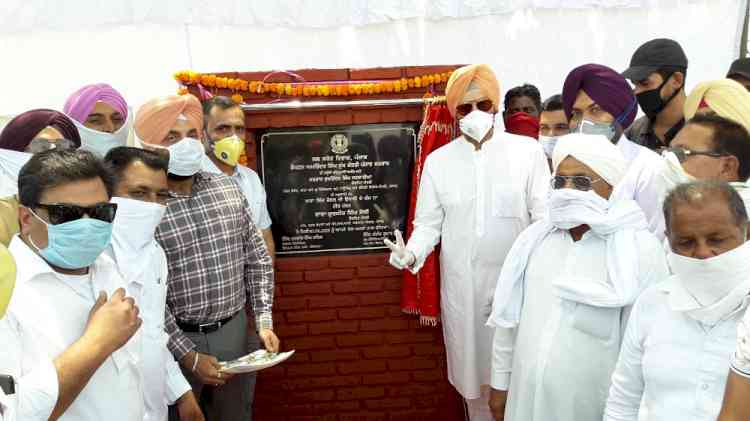 Ferozepur: Fulfilling the 15-years old demand of villages Chak Mahanta Wala, Chak Jmalgarh, Jmalgarh, Haddiwala, Chak Saidoke, Ghaga, Boorwala and Jhariwala, Cabinet Minister Rana Gurmeet Sodhi accompanied by Deputy Commissioner Ferozepur Mr. Kulwant Singh on Wednesday laid the foundation stone of Rana Channel link at village Chak Mahanta Wala.
 
Divulging the details, the Cabinet Minister said that a long-awaited demand of these villages was being fulfilled with the kick-starting of this project. He said that underground pipes would be laid down by the water resources department to provide the water for irrigation purposes to over 2000 acre agricultural land.
 
"A whopping amount of Rs. 1.74 Crore has been sanctioned by the Chief Minister Captain Amarinder Singh led Punjab Government" said Mr. Sodhi and added the budget for this project has already been transferred to the department.
 
The minister said that as the tendering process was already initiated, the project would be completed at a fast pace. He said that this project includes the lying of the underground pipeline of 2 kilometers from Nijamwali Burji to Kahn Singh Wala minor.  A total of 17 cusecs of water would be discharged through this new link channed, he added.
 
He said that this project would benefit around 2000 acres of agricultural land and accused the opposition of withholding this project for decades thus depriving villagers of the fruits of this crucial link channel.
 
Deputy Commissioner Ferozepur Mr. Kulwant Singh while calling it a pro-farmers' move said that the state government was committed to taking developmental projects at the far-flung areas of the state so that no village, town or city remain untouched by the Captain Government's developmental regime.
 
Meanwhile Superintendent Engineer of Water Resources department Mr. Harlabh Singh Chahal threw light on the projects along with its benefit to the farming community.
On the occasion SDM Ms. Poonam, Executive Engineer Mr. Jagtar Singh and Congress Leader Anumeet Singh Heera Sodhi were present.