Rana Gurmeet Singh Sodhi personally hands over smart phones to 1952 students of Class XII under 'Punjab Smart Connect Scheme'
Reiterates that all promises made by Punjab Government to be fulfilled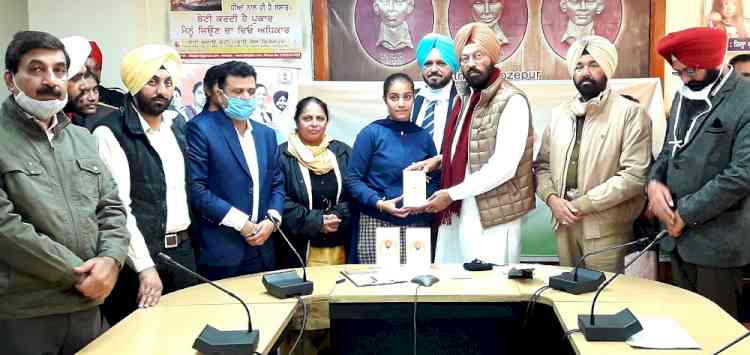 Ferozepur: While Chief Minister Captain Amarinder Singh distributed smartphones to the youth at Chandigarh, S.Rana Gurmeet Sodhi, Minister of sports and youth services handed over smartphones to about 1952 students of class XII at District Administrative Complex. He also distributed 40 Tablets to students of Govenrment Senior Secondary School (Girls) of Distt. Ferozepur.
During this occasion, the Cabinet Minister S. Rana Gurmeet SIngh Sodhi said that Punjab Governmen led by the Chief Minister Captain Amarinder Singh had fulfilled its another major promise made with the people during the run up to assembly polls. He said that this endeavour of providing state-of-the-art Smartphones to students would be immensely beneficial in pursuing their studies without any hurdles especially in the tough time of COVID-19 pandemic as these phone were having all requisite specifications. The Minister said that the state government has decided, that in the second phase, Smart Phones would be given to all boys and girls studying in Class 12 in Government schools.
Citing the salient features of these Smart Phones, S. Rana Gurmeet SIngh Sodhi further said that now the students would be able to access relevant information about their course through these smartphones. He said that this would also facilitate department in imparting education online with convenience to both students and teaching staff. He also pointed out that these smartphones would also ensure access to avail citizen services online besides making youth aware about the welfare schemes. The minister also mentioned that with these smartphones the youth would be able to access employment opportunities, job fairs and recruitment drives under State Government's flagship scheme Ghar-Ghar Rozgaar & Karobaar.
Pointing out that, in this era of Social Media, the Minister said that these youth will excel in digital literacy and have access to digital payments, insurance, online banking etc. besides staying connected with their families and friends through social media. Interacting with media persons, the Minister reiterated that Punjab Government was committed to fulfil all the promised made during the run up to the assembly polls.
On this occasion Sh. Gurpal SIngh Chahl, Deputy Commissioner along with DEO (Secondary) Madam Kulwinder Kaur, DEO (Primary) Rajeev Kumar Chabbra, Deputy DEO Komal Arora were also present.