Quiz competition-2020
ACME and ACHIEVERS SBSSTC, Poly Wing Ferozepur organised the event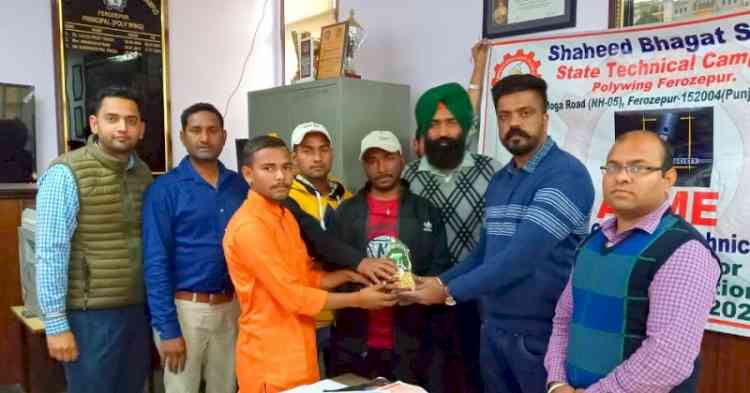 Ferozepur: ACME (Society of Diploma Mech Engg) & ACHIEVERS (Society of Diploma ECE Students) have Shaheed Bhagat Singh State Technical Campus, Ferozepur, have organised Quiz Competition-2020 in Polytechnic Wing of SBSSTC, Ferozepur on Wednesday.   
There were total 13 teams who participated in this event and each team comprises of three members. There were total three rounds and each round was of fifteen minutes. This event was jointly organised by ACME and ACHIEVERS societies to enucleate the winning spirit among the students and preparing them for their coming placement events. The team from Second Year Mechanical Engineering stood first, team from Electrical Engg stood second and Third Year Mechanical Engg team bagged third position. . The teams are awarded with first, second and third position Mementoes. 
Dr. Harinder Pal Singh, Principal Poly Wing congratulated the winning teams and encourage every participated team with his kind words. Principal Poly Wing also congratulated Dr. Kamal Khanna-Incharge Quiz Competition (ACME) and Mr Gurjeevan Singh Chairman: ACHIEVERS, Mr. Retaish Uppal: Chairman ACME and Mr Ajay Singla for successfully organising this event. The other present faculty members were Mr Gobind, Mr Amarjeet Singh Sandhu, Mr Satwinder Singh, Mr Mukesh Kumar, Mr. Rajnesh Kumar, Mr. Manpreet Singh and Mr. Karamjeet Singh.
Dr T S Sidhu campus Director told that with the commitment of the dedicated faculty and staff and spirited participation of our diploma students, SBSSTC, Poly Wing Ferozepur is achieving new horizons every year and excelling in the region in imparting quality technical education.