Punjab's Author presents pictorial book on Nature of Punjab to Legend Author of Hindi Cinema Javed Akhtar
Legend Hindi Cinema Poet, Lyricist, Author Javed Akhtar presented Pictorial work on Nature of Punjab (Sadda Sohna Punjab) with aim to highlight the unseen Natural Locations of Punjab within Bollywood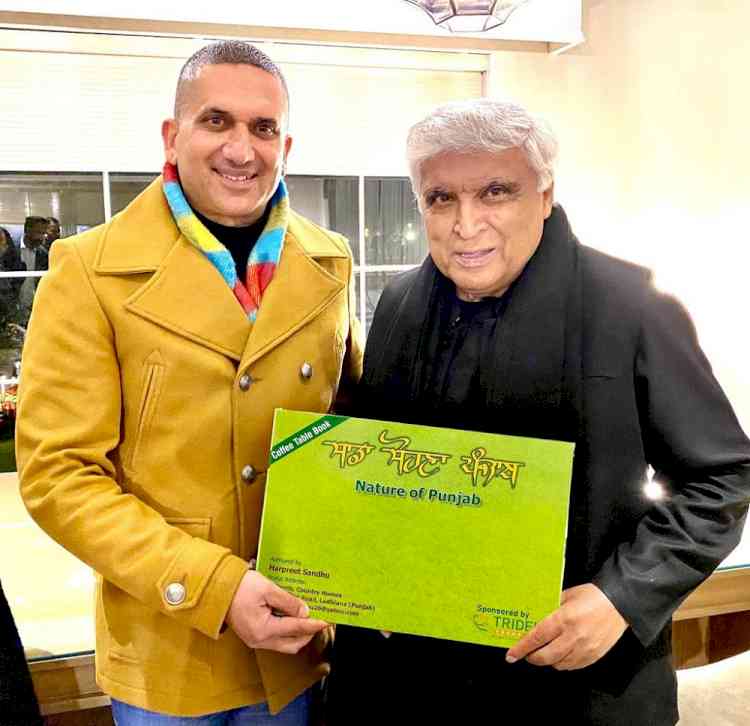 Punjab's eminent Author Harpreet Sandhu presenting pictorial work on Nature of Punjab to Legend Author of Hindi Cinema Javed Akhtar.


Ludhiana, January 28, 2023: The legend Hindi Cinema Author, Poet, Lyricist and Script writer Padma Bhushan Javed Akhtar was today presented the well acclaimed Pictorial work compiled in form of Coffee Table Book titled, "Sadda Sohna Punjab" depicting Unseen Natural locations of Punjab by Author & Nature Artist Harpreet Sandhu during his visit to Ludhiana.
Pictorial work Saada Sohna Punjab is a picturesque book showcasing the serene nature of Punjab region and beautifully depicts wondrous natural landscapes of State of Punjab, was presented to the legend Hindi Cinema Author Padma Bhushan Javed Akhtar with aim to highlight the mesmerizing Natural Locations of Punjab within Bollywood cinema enabling them to explore the unseen locations of Punjab which are portrayed in the Coffee Table Book. Javed Akhtar expressed his gratitude to the Author Harpreet Sandhu for presenting the Coffee Table Book on Nature of Punjab.
Harpreet Sandhu, Author of Coffee Table Book, "Sadda Sohna Punjab" shared that it was his privilege to present – Right thing to Right Person.