Punjab Pradesh Beopar Mandal seeks withdrawal of professional tax
Seeks immediate attention of Punjab CM Charanjit Singh Channi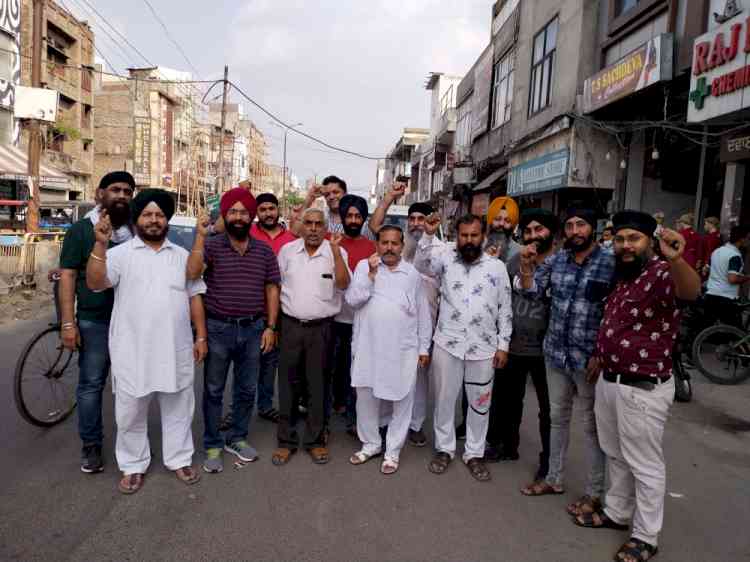 Ludhiana, October 8, 2021: Members of District Unit of Punjab Pradesh Beopar Mandal (PPBM) on Thursday held a demonstration against professional tax in the Field Ganj Area here and strongly urged upon the state government to withdraw this tax in the larger interests of the traders and the state's economy as well.
The protest was led among others by the mandal's state general secretary Sunil Mehra, central zone president Baljit Singh Minkal.
Addressing the protestors, Sunil Mehra and mandal's district president Arwinder Singh Makkar alleged the state government is not watching the interests of the traders. They categorically stated that the state government should immediately roll back professional tax if it really wants to support the traders who have already suffered heavily due to the pandemic. The policies of the state government had also severely hit the traders over the period, they pointed out.
They said the present chief minister of Punjab Charanjit Singh Channi has made a lot of announcements for various segments and now the traders are also hopeful that he will look into the issues and problems of the traders of the state as well. They claimed that no political party could come to power without the support of the traders.  
The mandal leaders also expressed their concern over the rising incidents of crime such as thefts and snatchings. They said there prevails no law and order in the state. As a result, a sense of fear prevails among the traders coming out of the state. They demanded that adequate steps should be taken to maintain law and order so that traders should do their job fearlessly. 
They warned to intensify the struggle if the professional tax is not withdrawn. They said they would decide the future course of action after holding a meeting of the traders.
Among others, Sukhwinder, Babbu, Kulwinder Singh Chawla, Sonu, Vicky Saluja, Preet Singh, gagandeep Singh Kalra, Sunny Dhamija, Jalpreet Singh, Johney, Tejinder Singh Tinku, Babbu Singh, Mishri Lal were present.