Punjab government to organise Punjab mega placement fair from Mar 12-24
Companies to hire students for a total of 4310 vacancies: DC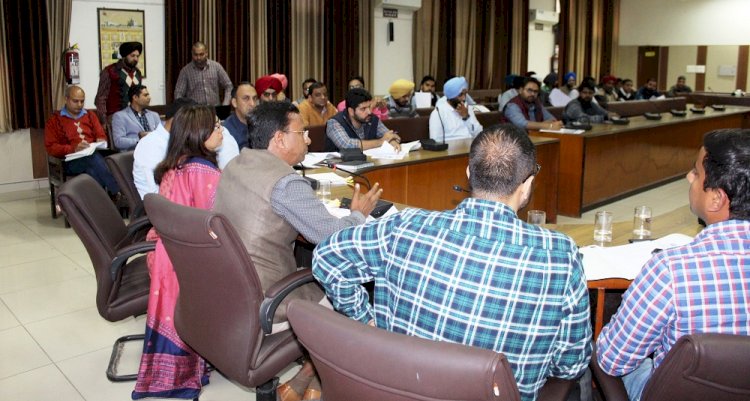 Ludhiana: Deputy Commissioner Mr Pradeep Kumar Agrawal informed that under the Ghar Ghar Rozgar Mission, the Punjab government is organising Punjab Mega Placement Fair in five districts of the state from March 12-24, 2020. He said that several big companies would be attending this job fair and a total of 4310 vacancies are to be filled by them.
A meeting in this regard was chaired by the Deputy Commissioner in Bachat Bhawan, here today, in which representatives of colleges and universities attended. ADC (Jagraon)-cum-CEO District Bureau of Employment and Enterprises Mrs Neeru Katyal Gupta, all SDMs were also present in the meeting.
Mr Agrawal urged the colleges and universities to send maximum number of their students for this job fair as the companies are offering good packages. He said that the minimum package being offered by companies is Rs 3 lakh per annum, whereas the maximum package of Rs 23 lakh per annum.
He informed that the Punjab Mega Placement Fair would be organised at Amritsar Group of Colleges, GT Road, Amritsar on March 12 & 13, at Lovely Professional University, GT Road, Phagwara (Kapurthala) on March 17 & 18, at Maharaja Ranjit Singh PTU, Bathinda-Dabwali Road, Bathinda on March 19 & 20, at Indian School of Business, Mohali on March 23 & 24, at Chandigarh Group of Colleges, Landran, Mohali on March 23 & 24, at Government College, Phase 6, Mohali on March 23 & 24, at NIPER, Sector 67, Mohali on March 24 and at Rayat Group of Institutions, VPO Railmajra, District Shaheed Bhagat Singh Nagar on March 23 & 24, 2020.
He informed that the students can apply and generate their hall tickets by registering them at website pgrkam.com. He stated that details about participating companies as well as the vacancies, eligibility criteria etc can also be checked from the above mentioned website.
The Deputy Commissioner further stated that the freshers having first division in degree can also participate, whereas minimum of one years experience is required if the person is already doing some job. He informed that a company named DXC Technology would be hiring 1000 students for various vacancies and so they would be conducting a Pre Assessment Test for students having BE, B.Tech and MCA degrees at 10 am on March 17, 2020 at Chandigarh University, Mohali. The interviews of students clearing this test would be conducted by the company at Indian School of Business, Mohali on March 23 & 24, 2020. The last date for applying for this test is March 6, 2020.
He also urged the colleges and universities to send details of their participating students at [email protected] by March 5, 2020. He said that if the number of students is high from a particular college or university, they should inform the District Administration or DBEE Ludhiana, and transportation facility would also be provided to them.