PUAA organizes web lecture on `Things to Know to keep your Heart Healthy'
The participants asked a lot of questions regarding Cardiovascular Diseases and treatment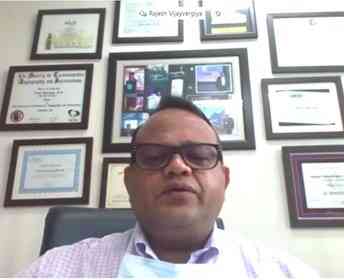 Chandigarh: Panjab University Alumni Association organized a web lecture on "Things to Know to keep your Heart Healthy" by Dr. Rajesh Vijayvergiya , MD, DM, FSCAI, FACC, FISES, Department of Cardiology, PGIMER , a senior interventional cardiologist performing coronary and peripheral intervention at PGI for over 20 years. 
Ms. Sonia Chandel from PUAA welcomed and introduced Dr. Vijayvergiya to the participants. 

He has published over 150 research papers in both national and international journals, received many awards and is a member of many professional bodies like Cardiology Society of India, Fellow of Society of the Cardiac Angiography and Intervention, International Society of Heart Research to name a few.
Dr. Vijayvergiya discussed about Major Cardiovascular Diseases like Heart Attack, Stroke, Rhythm etc and the reasons for their increase. He said smoking is the major reason for heart diseases and went on to discuss hypertension, obesity etc. He then discussed how to manage these problems. He discussed diet and exercise, stress and cardiovascular risk, warnings for heart attacks. Dr. Vijayvergiya concluded by describing what is angiography/ angioplasty and showed a video of the treatment to dispel the fear about this procedure.
Next, the participants asked a lot of questions regarding Cardiovascular Diseases and treatment which Dr. Vijayvergiya answered to their satisfaction.
Ms. Sonia Chandel gave a vote of thanks. Dr. Vijayvergia also thanked PUAA for the interaction.