PUAA and UICET Celebrate Azadi Ka Mahotsav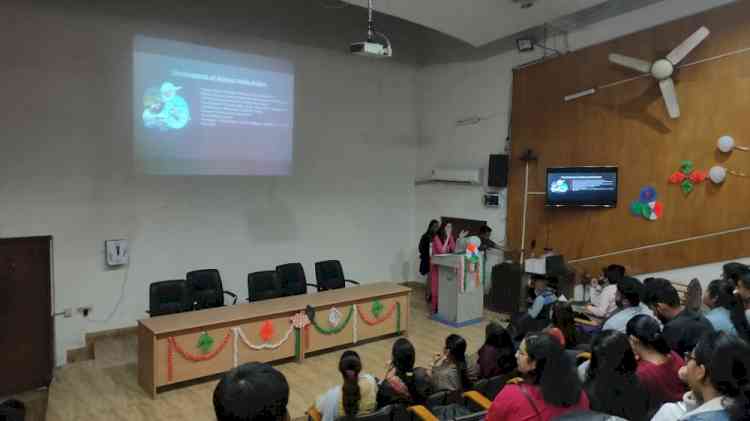 Chandigarh, March 11, 2022: Panjab University has been enthusiastically participating in the initiative of the Government of India to celebrate and commemorate 75 years of independence of progressive India and the glorious history of its people, culture, and achievements. Panjab University Alumni Association in association with Dr.SSBUICET, Panjab University, Chandigarh as a part of the celebrations  organised a variety of competitions, including presentations, monologues, and vlogs on March 11, 2022.
Over 100 students participated in the event which is part of the  Chandigarh administration's iconic week of the grand celebrations from March 6 to March 13, 2022. PU has been organising various social and cultural programs along with demonstrations of technical and scientific achievements. PU is aiming to make it a 'Jan-Utsav' in the spirit of 'Jan-Bhagidari' wherein various stakeholders including alumni, faculty, staff, and students are enthusiastically participating.
Dean Alumni Relations, PU Prof Anupama Sharmain her welcome address highlighted the objective of the event and stressed upon the five pillars of the celebrations:  Freedom Struggle, Ideas at 75, Achievements at 75, Actions at 75 and Resolves at 75. Amrit" means elixir, ambrosia, or nectar while "utsav" means celebrations, festival or jubilee and in more literal sense is elevation, rising, height, enterprise, undertaking, beginning, or blossoming.
Prof. Amrit Pal Toor, Chairperson, Dr. SSBUICET welcomed the students in the event and wished them good luck. She highlighted that this is the fist offline event after COVID 19 Pandemic and the institute is really happy to welcome their students back to their campus. 
The judges for the presentation round were Prof. Monical Munjial (Ex-Chairperson, Centre for Social Welfare, P.U.) and Prof. Ritu Gupta. Teams competed against each other in the competition and presented their views on the pillars of Atam Nirbhar Bharat and the historical importance of self-reliance. Kuldeep Kumar, Rachna Chaudhary and Manider kaur emerged victorious in the presentation competition.
Dr Twinkle Bedi judged the monologue competition on the theme "Atam Nirbhar Bharat". This was an intense competition filled with dramatics, recitations, and speeches. The winners of the monologue competition were Pappu Kumar and Shivani.
Prof. Sonia Sharma and Prof. Harjit Kaur were the judges for vlogs. Having shown an incredible video of Dr. SSBUICET, Sahil Kamboj, Ravnoor kaur, and Aman singh emerged as the winners for the vlog contest.