Professor designs disinfectant wand to fight against covid 19 
This Disinfectant Wand utilizes UVC light to significantly reduce viruses, certain molds and other allergens, on surfaces at home or while traveling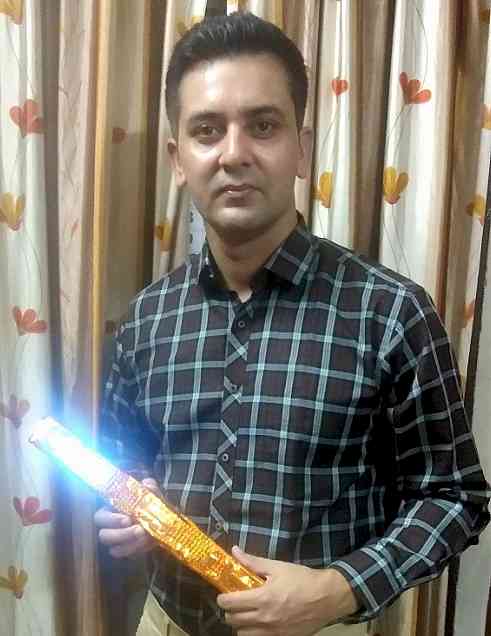 Jalandhar: GNA University Professor, Dr. Anurag Sharma of Faculty of Engineering and Technology has developed a handy, low-cost and effective "Disinfectant Wand" which can kill 99.9% of viruses like Corona, SARS etc in 20-30 seconds.
This Disinfectant Wand utilizes UVC light to significantly reduce viruses, certain molds and other allergens, on surfaces at home or while traveling. Perfect for smaller items like cell phones, remote controls, keyboards, faucets, toys, music players, countertops, bathrooms bed sheets and much more.
Dr. Anurag said, "It can disinfect any surfaces, plane and train headrests, steering wheels or shopping cart handles quickly and easily without chemical residue or harsh liquids or odors. Whether at home, work, dorm, hotel, public restroom, car, bus, train or work, this little magical stick is ideal for everything you touch except people, pets because it can harm their skin or eyes, therefore we have made a provision that it will turn off as it will rotate on other side."
Dr. V.K. Rattan, the Vice Chancellor, GNA University said, "At GNA University, we always encourage innovative ideas and try to develop real time applications which can contribute to the society."
Mr. Gurdeep Singh Sihra, the Pro-Chancellor, GNA University congratulated the team of Engineering and Technology and encouraged them to do more innovative research.