Prashanth Hospitals launches "Save Young Hearts" Film Festival in association with Loyola College Visual Communication Department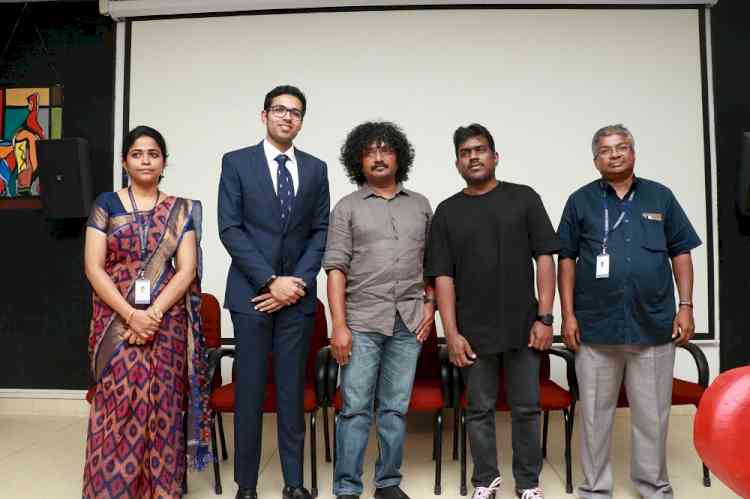 Chennai, September 27, 2022 : Prashanth Hospitals, in collaboration with the Department of Visual Communications at Loyola College, launched the "Heart Film Festival" today as part of its novel initiative to raise cardiac health awareness among the young population. It was inaugurated by Yuvan Shankar Raja, Youth icon and Film Music director, in the presence of Om Prakash, Cinematographer, and Mr. R.K. Selva, Film editor.
•    Film Festival Inaugurated by renowned Film Music Director Yuvan Shankar Raja
•    Heart Film Festival is part of the month long initiative of Save Young Hearts Campaign
Yuvan Shankar Raja, Film Music Director, said during the festival's opening ceremony, " I'm looking forward to watch the work of aspiring filmmakers who are known to astound everyone with their thought-provoking short films. I'd like to encourage everyone to unleash their full potential and thank Prashanth Hospitals and the Department of Visual Communication for creating such an innovative campaign - Save Young Hearts. Heart disease among youngsters are increasing at an alarming rate; preventive measures must begin at a young age. I'd like to thank everyone who helped make this fantastic social awareness campaign a reality."
A month-long campaign to raise cardiac health awareness "Save Young Hearts"  was started on September 10th, leading up to World Heart Day. As part of the campaign, a short film festival for aspiring filmmakers, students, and the general public was announced. Over a hundred entries from 60 colleges were received, and they will compete for the top three positions. Winners will be chosen based on votes cast by both judges and the general public. Cash prizes will be awarded to the top three positions,  First prize is Rs.100,000, second prize is Rs.50,000 and third prize is Rs.25,000.
Dr. Prashanth Krishna - Director of Prashanth Hospitals, Chennai stated that "To mark the occasion of World Heart Day, we launched Save Young Hearts public awareness campaign. We collaborated with the Loyola College Visual Communication Department to raise awareness and emphasise the need for a "Call to Action" to reduce the incidence of heart disease, which has become the leading cause of death in recent years. Heart attacks, once thought to be a "old man's disease," are becoming more common in youngsters. Lifestyle choices, increased stress levels, lack of sleep, nutritious food, and exercise are the primary causes of the rise in cases of heart attacks in relatively young people. It must be addressed at an early stage in order to save the lives of young people."
"Save Young Hearts" month-long campaign also included flash mobs and street theatre performances in the city's busiest areas. Meanwhile, a health check-up for teachers was organised at prestigious institution, Loyola College.
Dr. B.Nidhya, Co-ordinator, Department of Visual communication" We are honoured to be a part of the Save Young Hearts short film festival, which promotes social awareness among youngsters. Our collaboration with Prashanth Hospitals to promote cardiac wellness has proven to be an outstanding effort. We hope that this initiative will have a positive impact on the lives of many young people."
Prashanth Hospitals has been working on a long-term solution to prevent unexpected cardiac deaths. As part of their commitment to "World Heart Day", this month-long initiative, in collaboration with Loyola College, will have a positive impact on young people's heart health.