Policies of government will push country into economic ruins and serious nutritional health emergency: CPI
The party organized rally to pay homage to Comrade Gurmail Singh Hunjan and Comrade Joginder Singh in their village Pandher Kheri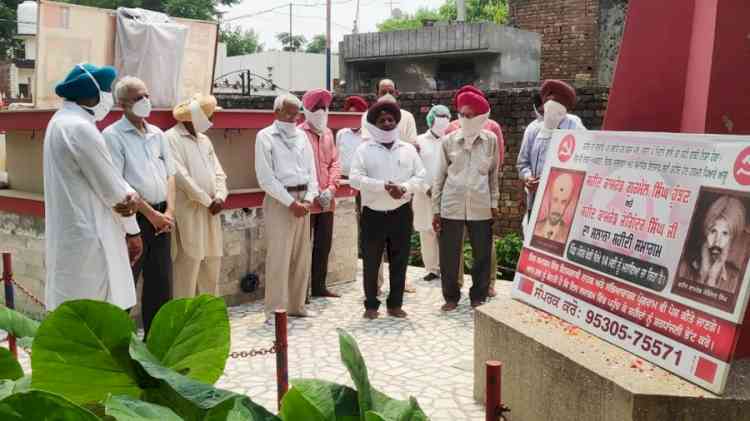 Ludhiana: The communist Party of India (CPI) district Ludhiana unit has alleged that total apathy of the government towards poor and marginalized sections of the society particularly the workers has added to the misery of this vulnerable section of the society. Lakhs of migrant workers are on streets after loss of jobs and even residence after sudden lockdown. In the absence of any food to eat and place to stay and eagerness to be with their kith and kin they want to go to their native places. But there is no suitable arrangement of rail/road transport . Therefore, they are forced to walk thousands of kilometers, many of them being old people, children and pregnant women. Several hundreds have died. But this has not evoked any empathy from the government. The Prime Minister has not uttered a single word for them in his speech day before yesterday. The Finance Minister has allocated 1000 crore rupees which means 20 rupees per person for the work force of 50 crores in the unorganized sector. This is a cruel joke with the poor hard working people of the country. 
The CPI has organized a rally to pay homage to Comrade Gurmail Singh Hunjan and Comrade Joginder Singh in their village Pandher Kheri, near Dehlon who were martyred by the terrorists on 14th May 1989 while fighting for the defense of integrity of the country. 
The party warned that a large section of the country is heading towards serious nutritional deficiency emergency. Unable to solve the problems of the people the government is out to communalise the society and divide the people. Such tendencies have to be fought back relentlessly. Those who addressed include Comrades D P Maur, Dr Arun Mitra, Chamkaur Singh, M S Bhatia, Ramesh Rattan, Gulzar Goria, Kulwant Singh, Bhagwan Singh.