PHDCCI's Punjab region Chairman Karan Gilhotra's philanthropy during covid 19 gets recognised
Punjab Governor felicitates Gilhotra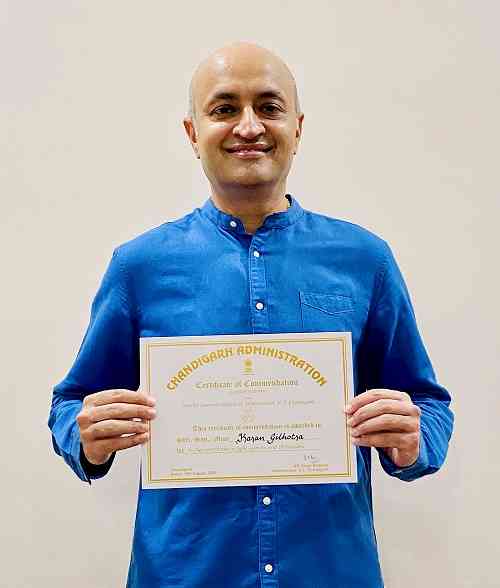 Industrialist Karan Gilhotra who is also Chairman(Punjab Region) of PHDCCI has been felicitated by Chandigarh Administration for his efforts during COVID 19 pandemic.
Chandigarh: To coincide with the 74th Independence Day celebrations Administrator , Chandigarh (UT) and  Punjab Governor VP Singh Badnore has honoured a young entrepreneur, Karan Gilhotra who is also Chairman (Punjab Region) of the prestigious industry chamber - PHD Chamber of Commerce & Industry(PHDCCI), for his services during the Covid 19 pandemic. Through the citation the Governor has recognised the leadership provided and holistic social service meted out by Karan during the Corona crisis.

Karan Gilhotra said, "I am grateful to the UT Administrator and Governor, Punjab for having given me this honour. It gives me immense satisfaction  to have rallied around industrialists through PHDCCI to collect a whopping sum of Rs 528 crores which was donated by the chamber to the PM Cares Fund. We also helped in providing ventilators, water bottles, rations and PPE kits for the front line warriors through.  In order to overcome the loss accruing to labourers and daily wagers due to the pandemic, I started serious discussions about the labor law and the need to guarantee 12 hours of work to workers, which is a need of the hour."

Gilhotra's proactive efforts against the pandemic made Punjab Chief Minister Captain Amarinder Singh include Karan in a 21 member committee headed by Montek Singh Ahluwalia former Chairman of the Planning Commission, under the guidance of former Prime Minister Manmohan Singh, to deal with problems during the Corona crisis. It is noteworthy that, Karan along-with his friend Bollywood actor Sonu Sood set an example of humanity by offering to adopt 4 orphaned children, whose father - a rickshaw driver died after drinking spurious liquor in a recent incident in Punjab. His wife too had died due to shock.

Karan's efforts against the pandemic were quite unique & this was noted by the Governor's office. Karan used technology to establish effective communication between industries in Chandigarh region & Punjab and the central government. Since the lockdown started Karan organised many virtual meetings with central union ministers - Nitin Gadkari, Piyush Goyal, Suresh Prabhu etc. to discuss the situation on the spread of COVID 19 and ways to counter it. What's more,  Karan did something which no one was paying attention to. He understood the need for good mental health during the corona crisis, and initiated the path of mental peace by organizing an online session with the country's renowned spiritual leaders -  Sri Sri Ravi Shankar, Sister Shivani and Shri Sadguru.                                                                                                

Karan's efforts were not limited to just Chandigarh and Punjab but encompassed geographies like Andhra Pradesh and even Mumbai. Karan in association with Sonu Sood presented many examples of human service during the corona crisis. In a generous gesture Karan and Sonu teamed up to provide a tractor to two daughters of a farmer from Andhra Pradesh, who were forced to plow the field due to lack of bullocks. Karan also became the voice of the badly affected Bollywood and media industry by reaching out to the Union Minister Nirmala Sitharaman with their issues. He also produced a song 'Be Strong' to ignite the fighting spirit among people against the virus in which 16 Bollywood & cricket celebrities participated.