PHDCCI organises video conference to deliberate on innovative solutions available for education sector to ensure safety of students and staff
Over 65 Participants from Education sector and MSMEs enrolled in MSME INNO programme participated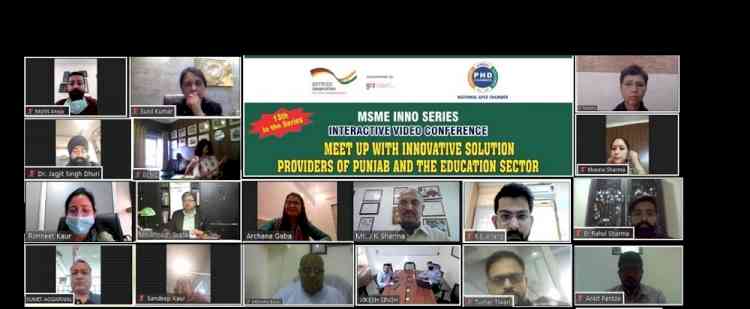 New Delhi: PHD Chamber of Commerce and Industry (PHDCCI) organized a Video conference titled Meet up with Innovative Solution Providers of Punjab and the Education sector here today to deliberate on the technical solutions that can be adopted by schools to ensure safety of students and staff during covid-19 pandemic.
 
Welcoming the speakers and participants, Mr. Anirudh Gupta, Chair, Punjab Education Committee, PHD Chamber & CEO, DCM Group of Schools, Punjab & Haryana said that as schools reopen amid covid-19 pandemic, the challenge to maintain hygiene and social distancing among the students will be a daunting task. He added that innovative ways will have to be adopted to enforce the heightened health and sanitation protocols to prevent the potential spread of covid-19. He mentioned that innovative MSMEs from Punjab have helped device effective responses to mitigate these challenges. A few such MSMEs will be enlightening the participating educational institutions about their products. He said the program presents a platform where academia and industry can interact directly with each other. He said that it will be a win-win situation for both the participating academia and MSMEs as the academia can learn about the new products useful in covid times and MSMEs can reach their potential customers.
 
Speaking on the occasion, Ms. Archana Gaba, Co-Chairperson, Punjab Education Committee & Director Saint Kabir Gurukul, Jalalabad stated that maintaining covid-19 protocol will be challenging for educational institutes keeping in view the large number of students. The teachers and supporting staff will have to keep an eye on infections without getting themselves infected. She added that it is difficult for schools in remote areas to know about the solutions available for fighting the pandemic.
 
Deliberating on current challenges in Covid Times and future necessities of the education sector, Dr. Jagjit Singh Dhuri, President, Federation of Private Schools and Associations of Punjab mentioned that  the solutions developed for covid-19, will be useful in the long term also and shall become permanent features in schools as they will not only  help against covid-19 but will save people from several other infections also.
 
Addressing the Conference, Mr. J K Sharma, Co-Chairman, Punjab Education Committee & CEO, Technology Business Incubation Foundation (TBIF) Indian Institute of Technology (IIT), Ropar informed that IIT, Ropar has developed several innovations that can help in preventing spread of covid-19 and the institute is ready for tech transfer to interested MSMEs.
He advised that covid-19 protocols should be strictly implemented in educational institutes. Sanitizers should be available at the gate and classrooms should be sanitized properly. It would also be desirable to have a nursing staff in the school to attend to any infected student or staff.
 
Participating MSMEs including SBL Speciality Coatings, JalBath Fittings, Tristar Pharmaceuticals, KS Munjal Industries, Priority Solutions, Ekam Traders, Mansar Herbals, Shri Krishan Industries, Shri Shyam Industries, Froods Nutraceuticals, Clarity Medical made presentations about their innovative products that can useful for educational institutions during the covid-19 pandemic.
 
Innovative MSMEs including M/s SBL Speciality Coatings, Derabassi; M/s Jal Bath Fittings, Mohali; M/s KS Munjal Industries, Ludhiana; M/s Ekam Traders, Amritsar; M/s Mansar Herbals, Jalandhar; M/s Priority Solutions, Mohali; M/s Clarity Medical, Mohali; M/s Shri Krishan Industries, Phagwara, M/s Froods Nutraceuticals, Amritsar and M/s Shri Shyam Industries, Sangrur made presentations about their innovative products that can useful for educational institutions during the Covid-19 pandemic.
 
Thanking the speakers and participants, Mr. Anirudh Gupta hoped that the program will benefit both participating MSMEs and the educational institutes.
 
Over 65 Participants from Education sector and MSMEs enrolled in MSME INNO programme participated and benefited from the programme which is 13th in the series under the MSME INNO project.