PCTE ranked 65th in Outlook's annual ranking of India's top BBA colleges for 2020
The ranking was made keeping in view the significance of producing ready candidates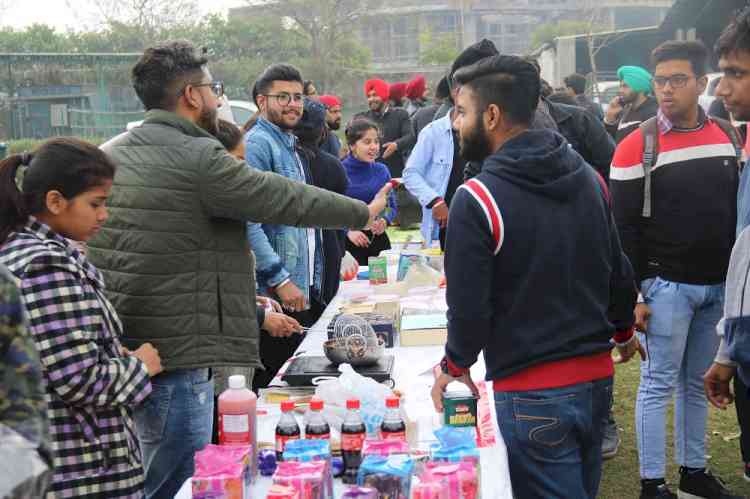 PCTE students during Consumer Hub Activity.
Ludhiana: PCTE Group of Institutes has been ranked 65th by Outlook in its annual ranking of India's top BBA colleges for 2020 and in Punjab, PCTE has been ranked the 3rd best college including all the Universities and colleges.
The Outlook-ICARE Professional College Ranking 2020 lists institutions across a large spectrum, the institutions are assessed on their strengths in parameters such as academic and research excellence, industry interface and placements, infrastructure and facilities, governance and admissions and diversity and outreach.
The ranking was made keeping in view the significance of producing ready candidates and providing students the right resources, labs, incubation centres and so on.
PCTE has always focused on practical orientation where the students are provided industrial exposure, guest lectures by renowned speakers, Entrepreneurial Workshops, Consumer Hub- an activity where students are exposed to marketing fields, RAWAR- a semester-long activity based on business situations. Besides this, compulsory summer internships, online certification on Google digital marketing and NISM is conducted. PCTE also has a startup forum that provides guidance to the students to start their own business.
Dr. Pallavi Dawra, Director, said that PCTE works really hard to provide hands on experience to its students and also focuses on the overall development  by providing various platforms where students can explore their talent  and potential to the fullest.
Dr. K.N.S.Kang , Director General, PCTE Group of Institutes, said that PCTE has always worked towards the  overall personality development of the students which not only helps them academically but helps them build their career as well. He further added by saying that the ranking was possible with the constant efforts of the faculty members who guide the students throughout the course.