PCM SD College for Women gets approval for eight skill based diploma and B.Voc Courses under aegis of UGC
PCM SD College has always put its best foot forward in offering a platform not only for academic learning and extra-curricular activities but also for vocational and technical education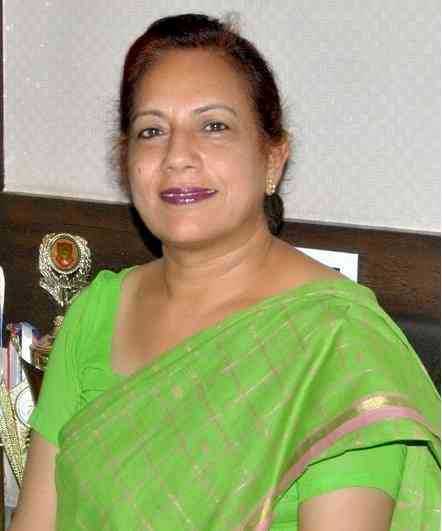 Principal Dr.(Mrs.) Kiran Arora.
Jalandhar: In Compliance with the norms laid by the New Education Policy 2020 with its increasing emphasis on skill-oriented courses, one of the most sought after institutions imparting Women Education, PCM SD College has always put its best foot forward in offering a platform not only for academic learning and extra-curricular activities but also for vocational and technical education. Apart from providing a well-inclusive curriculum, catering to the demands of multifarious skills and to be in sync with the volatile times, our institution has always remained a flag-bearer of expertise. The same has been manifested in the sound initiative sought by it, where in eight skill-based Diplomas and B.Voc courses have been sanctioned by the UGC. Four Diplomas in IT/Office Automation, Media and Entertainment/Still Photography and Videography, Food Processing/Culinary Arts, Early Childhood Care and Education and four B.Voc Courses in Banking and Financial services, Sports/Physical Education and Fitness, Beauty and Wellness and Management and Entrepreneurship/Women Empowerment has been approved by the UGC.
 
It is worth mentioning that a student can avail a certificate after completion of first six months, a diploma after first year, an advanced diploma after two years and a B.Voc degree after three years. All the aforementioned courses bear monumental relevance in their respective arenas. A diploma in Photography and Videography will facilitate a career in Media and Entertainment industry. Courses in Early Childhood Care and Education and that in Beauty Culture and Cosmetology are highly lucrative and resourceful career options in the country and overseas. A course in Entrepreneurship would inculcate entrepreneurial and managerial skills encompassing critical thinking, strategic thinking, team work and leadership skills.
 
Principal Dr.(Mrs.) Kiran Arora averred that even after completing a six-month course, a student can opt to drop out from the course, procure a certificate, go abroad, unearth opportunities galore and be self-sufficient. These courses also comprise practical exams, industry visit and internship. Students after completing +2 are eligible for these courses and the fee structure is extremely affordable.
 
The institution is successfully running two B.Voc Courses under UGC in Web Designing & Development(IT) and in Fashion Designing and Product through NSQF. The objective of these courses is to make students self sufficient. Also, Beauty and Body Fitness Certificate Course of one year and a Diploma Course for two years are successfully running under Community College scheme.
 
Principal congratulated Mrs. Renu Tandon, Mrs. Jaspreet Kaur and other members for their relentless efforts in getting approval for these courses.