PAU'S SEPTEMBER KISAN MELAS END WITH GRAND FAIR AT RRS BATHINDA
The concluding event of the September series of Kisan Melas, hosted by Punjab Agricultural University (PAU), unfolded at the Regional Research Station in Bathinda. This one-day agricultural fair attracted a substantial crowd, with farmers from Bathinda and the surrounding regions gathering at the venue. The theme for this Kisan Mela was "Hues of Scientific Farming with PAU Farmers' Fairs," encapsulated in the phrase "Vigyanak kheti de rang, PAU de Kisan Meleyan sang."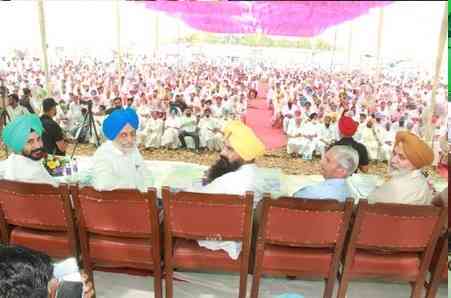 Ludhiana, September 27, 2023: 
The concluding event of the September series of Kisan Melas, hosted by Punjab Agricultural University (PAU), unfolded at the Regional Research Station in Bathinda. This one-day agricultural fair attracted a substantial crowd, with farmers from Bathinda and the surrounding regions gathering at the venue. The theme for this Kisan Mela was "Hues of Scientific Farming with PAU Farmers' Fairs," encapsulated in the phrase "Vigyanak kheti de rang, PAU de Kisan Meleyan sang."
The inaugural ceremony was graced by the presence of Sardar Gurmeet Singh Khudian, Minister for Agriculture and Farmers' Welfare, Punjab. Additionally, Dr Gurdev Singh Khush, the World Food Prize Laureate, was the Guest of Honour. Dr. Satbir Singh Gosal, Vice-Chancellor of Punjab Agricultural University, Ludhiana, was the notable attendee, along with PAU representatives.
In his inaugural address, S. Khudian lauded the unmatched symbiotic relationship between PAU and the farming community. He advocated a dual-pronged approach to ensure a prosperous agricultural sector, involving prudent spending and the adoption of supplementary ventures. He also exhorted the farmers to embrace cutting-edge farming methods aligning with future trends, economize water use, shun injudicious use of chemicals, and refrain from spurious products. He endorsed the use of PAU-developed machinery to combat the menace of stubble burning. Heaping praises on Dr. Gurdev Singh Khush for his unrivalled contribution of more than 300 rice strains to the world, he emphasized the need for developing water-efficient rice varieties. Concerns like climate change, declining water levels, agricultural produce marketing, and excessive use of insecticides and pesticides were mentioned, with a call for proactive cooperation between the farming community and scientists to address these issues.
Admiring the university's research drive, the Chief Guest laid an accent on PAU's informative technical sessions, training programs, and workshops tailored to meet the agricultural community's requirements. He encouraged farmers to make the most of the university's inventive initiatives. Pressing for diversifying crops to include oilseeds, millets, pulses, and leguminous fodder, S. Khudian gave prominence to the importance of adopting PAU's in-situ crop residue management techniques and surface seeding. He commended the university's operations in tandem with the state government's efforts to counter the menace of pink bollworm in cotton crop which led to higher yield this year. He also spotlighted the subsidies offered by the Punjab Government on a range of agricultural equipment. Expressing deep concern about the drug crisis among young individuals, the Minister recommended that farmers invest more time in their children to keep them away from harmful influences.
Dr. G.S. Khush, accompanied by his wife, Dr. Harwant Kaur Khush, spoke fervently, prompting collective efforts to liberate human lives from the clutches of poverty, hunger, and destitution. Reflecting on his own journey as a researcher, he described the crucial role of collaboration, notably with PAU, in disseminating vital rice varieties. He pinpointed the requisite shift towards sustainable agricultural practices – beckoning a departure from stubble burning and approving organic matter restoration in the soil. Tracing the history of rice revolution in Punjab, he underlined the centrality of soil health and water conservation in shaping the future of agriculture.
Dr. S.S. Gosal, in his remarks, expressed appreciation for the trust and strong connection between farmers and the university. Recalled the NRI Farmer's Conclave held at PAU, where narratives of agricultural success and the adept self-marketing of produce were on display, he encouraged the youth to emulate initiatives by NRI farmers. He reiterated that PAU's vision extended to pioneering technologies that are not only productive but also resilient to the caprices of climate and are environmentally benign. The canvas of exploration includes micro-irrigation, biosensors, Artificial Intelligence, and precision agriculture.
Resonating the need to diversify as well as embracing self-marketing of the yield and processed goods, Dr. Gosal stated that hybrid seed production and venturing into ancillary trades like food processing and beekeeping find their place in this expansive vision. He pivoted to the role played by Bathinda's Regional Research Station in cotton research and explained the scope of value-addition through the services of Incubation Centre established at Bathinda. Dr. Gosal urged farmers to adopt PAU-recommended crop varieties, prudently manage fertilizer usage, and, above all, eschew the harmful practice of stubble burning, thus safeguarding both soil health and air quality. He encouraged the implementation of an integrated farming model for self-sustainability and income generation.
Dr. Ajmer Singh Dhatt, Director of Research, shed light on PAU's research milestones and introduced the new university-developed crop varieties. He unveiled that PAU has recommended 940 crop varieties and hybrids, with 225 gaining national approval. He detailed the distinctive traits of wheat varieties PBW Zinc 2, PBW RS 1, and PBW 826, along with chickpea variety PBG 10, field pea variety IPFD 12-2, and fennel variety Ajmer Fennel 2. Urging farmers to refrain from using unapproved crop varieties and shifting towards a diverse palette, Dr. Dhatt counseled farmers against exacerbating the issue of paddy straw burning. He offered viable alternatives like the Happy Seeder, Smart Seeder, Super Seeder, and Surface Seeder technologies.
In a spirited welcome for the dignitaries and the farmers alike, Dr. Gurmeet Singh Buttar, PAU's Director of Extension, underlined the importance of following PAU recommendations. He motivated the farmers to attend training sessions at the university's various KVKs to equip themselves with the latest insights to address challenges posed by weather, weeds, pests, and more. Dr. Buttar acknowledged the legacy of 56 successful years of Kisan Melas affirming the role of farmers in steering the course of agricultural excellence. He also informed about PAU's first rank among 63 state agricultural universities in the NIRF 2023 rankings.
Dr. TS Riar, Additional Director of Communication and Dr G S Romana facilitated the program, exhorting the farmers to stay connected through the university's mobile app and farm literature. Subsequently, Dr. Karamjit Singh Sekhon, Director of the Regional Research Station in Bathinda, extended a vote of thanks to the audience.
The mela featured diverse stalls showcasing implements, improved seeds, solar energy solutions, and farm literature. PAU scientists engaged in an interactive session, addressing numerous farmer queries. Subject matter specialists provided valuable insights on new crop production and protection techniques, as well as crop mechanization. A large number of farmers flocked to buy seeds and vegetable mini kits. Sale outlets were established for purchasing farm literature and fruit plants. The Chief Guest and the Guest of Honour were felicitated with mementos.