Pacific Mall hosts lucky draw contest
Dehradun resident Ravish Arora wins Skoda Car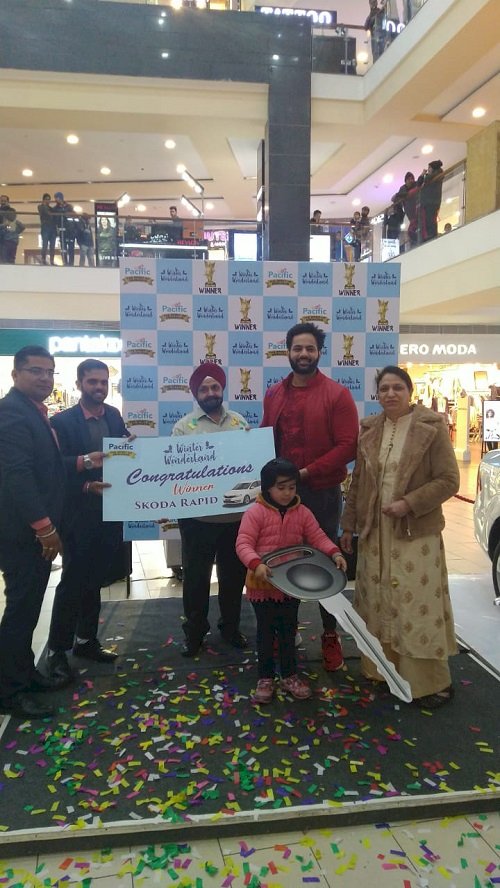 Dehradun: Pacific Mall organised Winter Wonderland, a two months-long Lucky Draw contest from 3 December 2019 to 2nd February 2020 for shopping lovers in the city. The lucky draw contest received participation from 3500 people, wherein the luck of chances favoured Ravish Arora's fortune and got him a brand new Skoda Car.
The contest was open for all those who visited Pacific Mall for shopping during the period. It was further divided into Super Weekends Lucky Draw that happened every Saturday. Winners of Super Weekends received electronic gadgets as a prize. Culminating this lucky draw in its final week, 3500 people came together to test their luck in this contest.
However, 1 out of 3500, Ravish Arora from Dehradun got lucky enough to emerge victoriously and become the proud owner of a Skoda Car. He cherished this wonderful moment along with his family and exclaimed "It is an absolutely wonderful feeling to win something so grand like a Car in a lucky draw contest. It still seems unbelievable as there were many participants in the contest. My family's happiness knows no bounds. I am extremely grateful to the organizers and thank them for this memorable gift. Pacific Mall with this contest has not just awarded me but took all of us by amazement. "
On this occasion of Winter Wonderland, Rohit Mishra, Centre Director, Pacific Mall, Dehradun said, "We feel elated when occasions and events like these bring together our community of customers and stimulate an experience worth remembering. Our aim is to make the Pacific Mall, a destination where happiness meets convenience and variety. These contests bring us closer to our customers; we are their well-wishers and seek to create novel cherishable moments for the entire family. Our belief is to go beyond the belief of malls being the place to visit during special occasions, instead, we are willing to go that extra mile to make every visit a special one for each visitor at Pacific Mall, Dehradun".