Online programme on agri skills empowerment launched with WSU
The objective of the programme is to develop an Innovation and Entrepreneurship programme for high performing final year undergraduates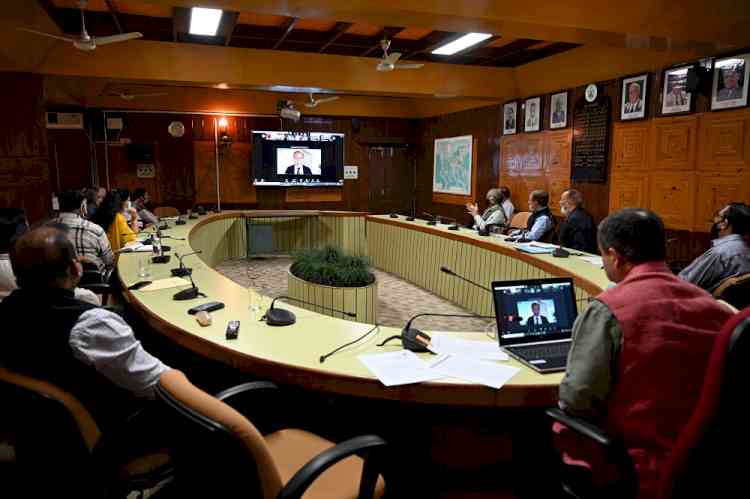 An international agricultural research programme between several Indian agricultural Universities including Dr YS Parmar University of Horticulture and Forestry, Nauni and Western Sydney University (WSU) was launched recently through online mode. The online programme titled 'Innovation and Entrepreneurship Programme- Entrepreneurs' has been started under the Indian Council of Agricultural Research's (ICAR) National Agricultural Higher Education Plan (NAHEP) funded by the World Bank. Under NAHEP, UHF has been awarded the prestigious Institutional Development Project(IDP). Some of the agricultural universities, who are a part of the NAHEP have tied up with WSU for this programme. 
The online programme launch was done by WSU which was attended by Dr A. Arunachalam, ADG (International), ICAR. The Vice-Chancellors of partner agricultural universities namely Dr Parvinder Kaushal, VC UHF Nauni; Dr Nazeer Ahmad, VC, Sher-e-Kashmir University for Agricultural Science and Technology; Dr Anupam Mishra, VC CAU, Imphal; Dr Ajoy Kumar Singh, VC, Bihar Agricultural University; Dr S Rajender Prasad, VC UAS, Bangalore and Dr RS Srivastav, VC Dr Rajendra Prasad CAU also joined the launch ceremony. 
Speaking at the event, UHF Vice-Chancellor Dr Parvinder Kaushal congratulated the WSU and all the partner agricultural universities. He said, "We are keenly looking forward to this partnership as our students and faculty will be exposed to contemporary knowledge in both innovation and entrepreneurship and a range of techniques and tools that have practical importance."
The objective of the programme is to develop an Innovation and Entrepreneurship programme for high performing final year undergraduates in Agricultural, Horticultural and Forestry Science which will provide prospects for students to explore opportunities to become future leaders in research, academia or business. The programme will provide an opportunity for students to engage with academic and business leaders to identify and understand technology gaps, business ideas and strategic choices that lead to innovation-driven advantages in the agritech sector. Student learning will be through the exposure to research-informed new knowledge and business cases from the industry that will inspire students towards entrepreneurship.
A total of 60 final year UG students from three colleges of the university will be undertaking the 20-week course. These students will also get an opportunity to visit WSU and have an opportunity to interact with researchers to develop an awareness of new research areas and business leaders to learn real-life examples and cutting-edge research.
Representatives from MANAGE, ICICI Foundation and Austrade also took part in the event. Professor Deborah Sweeney, Deputy VC & Vice President (Research, Enterprise and International), Prof. Amir Mahmood, Dean School of Business, Prof. Ian Anderson, Dr Nisha Rakesh, Stuart Farwell, were among the representatives of the WSU who attended the event. The statutory officers, IDP Coordinator and all the team members from UHF also became a part of the launch ceremony. UHF recently signed an MoU with WSU and three short-term courses on Entrepreneurship Development, Remote Sensing and Scientific Numeracy for the UG will also be started soon.