Online national competition 'style revolver'
PG Department of Fashion Designing of PCM SD College for Women organised the event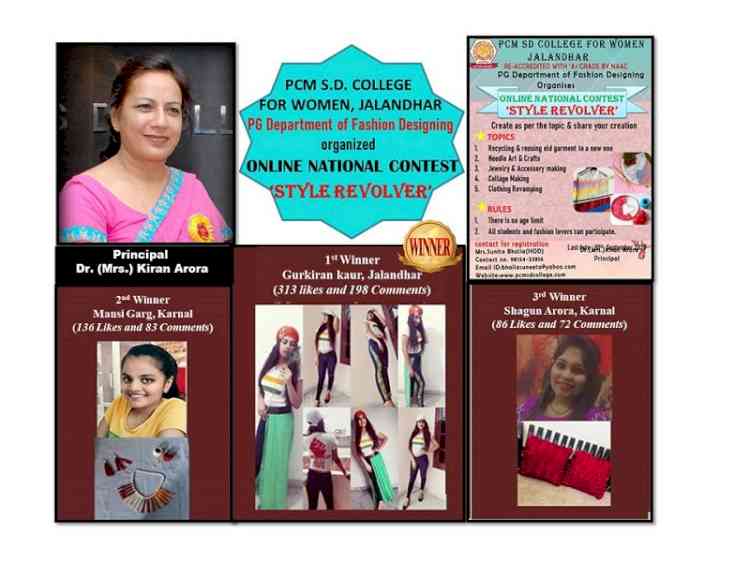 Jalandhar: PG department of Fashion Designing of PCM SD College for Women, Jalandhar organized an online national competition entitled 'Style Revolver'. For the contest, participants were asked to submit pictures and videos of their innovative products on various topics like Best Out of waste, needle art & craft, jewellery and accessory making, collage making and clothing revamping.  The contest attracted many entries and registered participants belonging to different states. The department shared the pictures invited from the participants on social media platform Facebook.
The final judgement was made based on the maximum number of likes and comments for each individual entry. After the five day challenge, the names of the winners of the contest were posted on facebook. Kumari Gurkiran Kaur from Jalandhar bagged first position by getting 313 likes and 198 comments for her creativity in clothing revamping. Kumari Mansi Garg from Karnal got second position with 136 likes and 83 comments on her beautifully crafted hand jewellery. Kumari Shagun Arora also from Karnal got third position by receiving 86 likes ad 72 comments for her outstanding needle art and craft. 

The winners were appreciated and awarded with e-certificates by Principal Dr (Mrs) Kiran Arora. Also, Madam Principal congratulated the Head of Department Mrs. Sunita Bhalla and faculty member for taking an initiative for organizing such National talent hunts.