One-Day Training program on Human Rights sponsored by National Human Rights Commission
The event organised by Academic Staff College, Amity University Haryana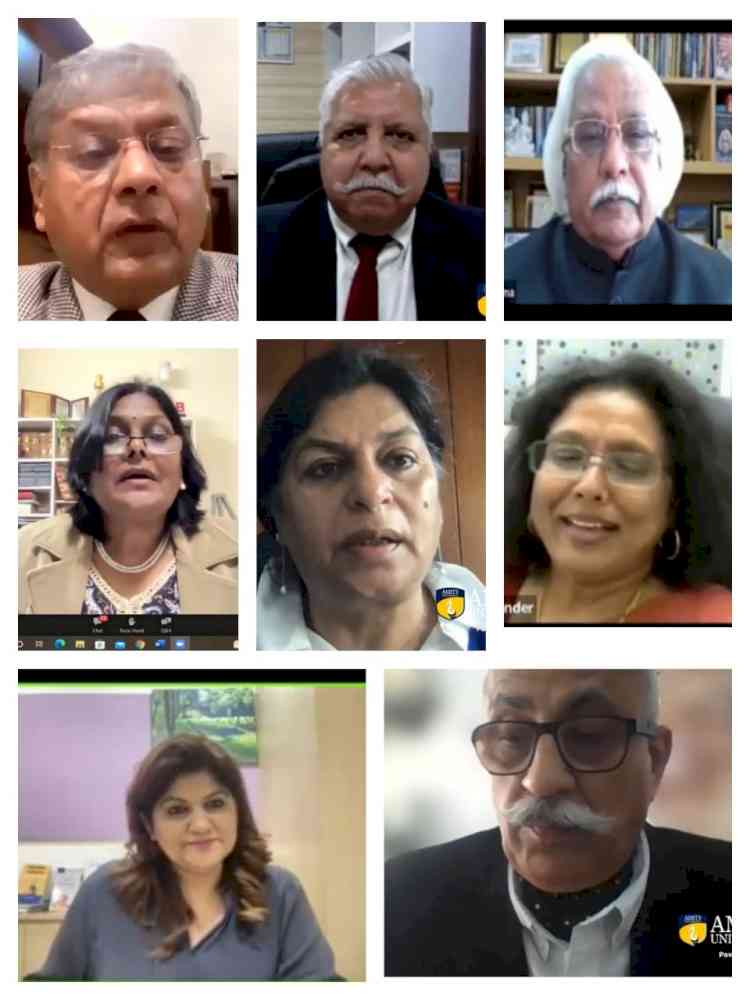 To bring awareness and sensitize university students, research scholars and faculty members on Human Rights, Academic Staff College, Amity University Haryana organised one-day training program on Human Rights sponsored by National Human Rights Commission, New Delhi. 
While delivering his inaugural address by Chief Guest, Shri Justice M.M. Kumar, Member, National Human Rights Commission, New Delhi, Former Chief Justice of J&K High Court emphasized  that this  kind of training programme based on Human Rights  has its aim to create awareness and to sensitize people towards the issues and challenges of the Human Rights. Shri Justice M.M. Kumar encouraged young people to adopt certain means to help the needy people in the society irrespective of the caste, sex, religion. He said that human beings were created by God, and Human Rights is based on  the requirement of life, and it is our duty  to protect its dignity. Human beings deserve respect and dignity. Shri Justice  added that students must take projects to find out the places where there is a violation of human rights, and to find out ways and means, how it can be protected. 
While delivering his keynote address Prof P B Sharma, Vice Chancellor, AUH said, "At a time when the New India is being created it is necessary that we pay a greater importance to the protections of human rights to minimize the sufferings and pains of the people, we should also take pride in being part of a great democratic republic that guarantees equality, social justice and freedom. However, it must be clearly understood that we shall have the rights only when the fundamental duties are performed by us with utmost sincerity, devotion, and commitment. In our age old Vedic spiritual civilization we find a great emphasis on personal integrity, work ethics, professional morals and fundamental duties towards society, nation, environment and eternal connect to the global humanity but little or no mention of the fundamental rights. It was assumed that once fundamental duties are performed with utmost sincerity and devotion, dignity of man and woman and the welfare of the people at large is also assured".  
"In the modern era however, great emphasis has been placed on human rights, but the compliance to the fundamental duties which were prescribed in our constitution almost after 30 years of independence are still a desired feature. If we are able to setup National Commission for a Fundamental Duties as a constitutional authority similar to NHRC, much of the ills and evils that we face today will disappear", added Prof Sharma.
While explaining the importance of Human Rights Maj Gen P K Sharma (Retd.), Professor and Dean, Amity Law School said, "The extent of protection of Human Rights in a country is measured not by the width of the relevant legal provisions, but the manner in which such provisions are interpreted and implemented by its Judiciary. The extent of judicial protection of Human Rights in India has always been commensurate with the width of the vision of its Apex Court and Happily, the Indian Judiciary has never lowered its sights".  
During her session, Prof Usha Tandon touched upon the Environmental Human Rights Defenders, Human Rights and the Sustainable Developmental Goals, and Human Rights, Climate Change and Displacement. Prof Tandon also talked about group rights and community rights and clarified that group rights are not community rights. Prof Tandon claimed that more than one hundred countries have accepted the fact that people have a right to healthy environment. She claimed that it is the duty of the state to protect the environment, yet, there is no legislature to protect and promote the environment. Here, the role of the civil society is very important. The individuals and the NGOs are playing significant role in protecting the environment from degradation.
Ms. Geeta Luthra, Senior Advocate during her session narrated various stories based on her own experiences and she found a lot of opportunity to help the financially and socially underprivileged people. Ms Luthra highlighted the example of Arushi Talwar Case, Nirbhaya Case and questioned the role of media investigation when the case is still sub judice. Ms Luthra said that as the judges are also human beings, there is every possibility that they could be influenced. She said that in developed countries, there are laws against media investigation and reporting when the court trial in in progress.
The session on Human Rights: Basic Values was delivered by Dr. Daisy Alexander, HoD, School of Law, CHRIST University, Pune. Dr Daisy shared a video on 'Path to Dignity: Power of Human Rights Education'. Dr Daisy stressed upon the fact how education is the highway to the social change. Dr Daisy also stressed upon the role of research in Human rights and the importance of Legal Aid and Centers of Social Action to improve the existing standards of human rights. 
Vice Chancellor Prof PB Sharma while delivered his session on Science, Technology and Human Rights very nicely interlinked Human Rights with Science and technology and discussed how science and technology are helping to protect the Human Rights. Prof Sharma said Rights cannot be claimed if duties are not performed and enlightened the gathering by saying that whole world is family, and every person lives for whole world.
Prof Paramjit Jaiswal, Vice Chancellor, SRM University Sonipat asserted that "Rights alone cannot be spoken about without paying heed to the duties." There is a need for nations which have some uniformity of respectability of huma rights in all countries. No country can be called as civilized which flunks in the protection of human rights of its people. Prof Jaiswal further said that if we dissect the title-UDHR (Universal Declaration of Human Rights) we can know that the concept of Human Rights is universal in nature and are in practice from time immemorial. Following the principle of dharma, our history enables us to live as human beings.
As part of the inaugural session, Dr. Sanjna Vij, Program Director, Amity Academic Staff College, AUH, gave an introduction on the program and walked through the schedule for the training program. Dr. Sanjna Vij said that Training on human rights not only means understanding the principles of human equality and dignity and the commitment to respect and protect the rights but using it meaningfully and practically in a positive way in our day-to-day life. 
Approximately 200 participants including Students, Research Scholars, Faculty Members and Heads of Institutions, from Amity Universities Haryana and various other colleges and universities of Delhi-NCR attended the training program.
The Vote of Thanks was delivered by Rear Admiral K K. Pandey, Director HR & AASC. Dr Shradanvita Singh, Asst Prof and Co-Ordinator, ASLA extended her support in coordinating the program.