NZIEA Ludhiana Division of LIC contributes towards CM's Relief fund-Covid-19
Says it stands in solidarity with all countrymen and women in this hour of unprecedented crisis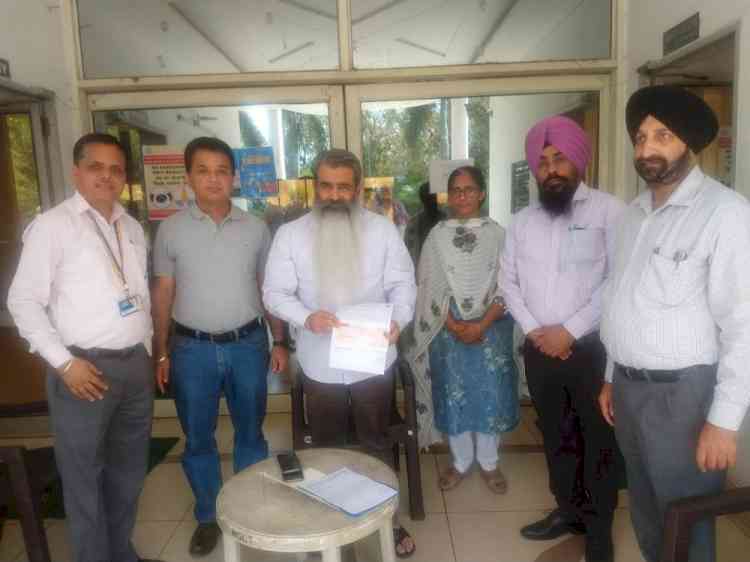 Ludhiana: When the world is facing a catastrophic situation due to the outbreak of the lethal corona virus-Covid19, the members of Northern Zone Insurance Employees' Association(NZIEA) working in Ludhiana Division of Life Insurance Corporation of India, appreciated Punjab CM's strong Leadership in taking extensive measures to contain the pandemic and its economic fallout.
According to Amarjit Singh, Divisional Secretary of the association, NZIEA is affiliated to All India Insurance Employees' Association (A.I.I.E.A), which is the oldest and largest Association of Insurance Employees in the Northern Region of the industry comprising of more than 85% of membership.
As a part of social responsibility, already AIIEA has contributed Rs.5 lacs and All India Insurance Pensioners' Association (A.I.I.P.A) Rs 1 Lakh respectively, towards Prime Minister's Relief Fund.
As per the appeal of A.I.I.E.A to all its Divisional units across the country, on behalf of Ludhiana Division, we are contributing Rs 1,85,064.00 as a token of our commitment to poor and marginalized towards Punjab Chief Minister's Relief fund-Covid-19 which is inclusive of Rs 25000.00 contributed by Retired employees of Ludhiana unit of AIIPA, he added.
He said, "Our members are also providing relief material in their areas in a limited way to the people severely impacted during the Curfew period."
Further, he said, "We stand in solidarity with all our countrymen and women in this hour of unprecedented crisis." 
While handing over the cheque to the Minister Amarjit Singh, Divisional Secretary, NS Kala, Secretary, Maan Singh Joint Secretary, Sanjiv Kalia Vice President were present.