NSS volunteers marched for road safety
They also organized an awareness rally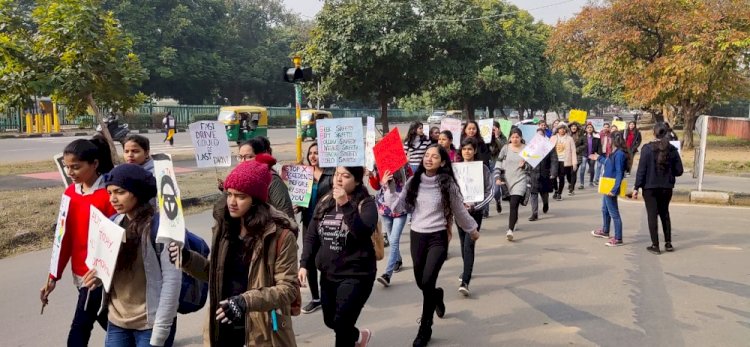 In an endeavorto extend electoral literacy andto promote the national flagship programme 'Systematic Voter's Education and Electoral Participation' also known as 'SVEEP', a poster making and slogan writing competition was organized on the theme 'Electoral Literacy for Stronger Democracy' on the sixth day of seven day special NSS Camp at Government Home Science College, Chandigarh. The main objective of this competition was to spread voter awareness and promote voter literacy in India.
It also aimed to work towards preparing India's electors and equipping them with basic knowledge related to the electoral process. The volunteers enthusiastically participated in the competition and designed beautiful posters and slogans to promote the same.
During the second half of the day, NSS volunteers organized an awareness rally as a part of 31st National Road Safety week 2020 observed from January 11, 2020 to January 17, 2020 under the theme 'Bringing change through Youth Power'. The rally witnessed participation of a number of volunteers. The rally was flagged off from college under the guidance of NSS incharge Dr. Neha Sharma. The volunteers holding banners, posters and placards in their hands chanted slogans for generating awareness amongst the common masses. Prior to this, the volunteers had actively participated by making beautiful posters and writing motivational slogans in order to highlight and emphasize the need for safe roads. Volunteers urged the masses to take cognizance of the issue and to join hands to make road safety a social movement. Later on, the volunteers prepared for the valedictory event to be conducted the following day. Vounteers wholeheartedly practiced for their performances with full zeal and fervor.
Principal of the college, Prof. SudhaKatyal, highly appreciated the efforts of the volunteers in generating awareness amongst the people about the importance of road safety and emphasized on the fact that if road safety products are utilized correctly or efficiently, they can help save lives, prevent accidents and injuries and keep a society functioning in the most optimal way. She further motivated the volunteers to be the agents of change and realize that 'Every Vote Counts'.