Noida International University honours Class 12 students for their outstanding performances
Somendra Tomar, State Minister, UP and Shri Suhas LY, District Magistrate, Gautam Budh Nagar were the chief guest and guest of honour of the event respectively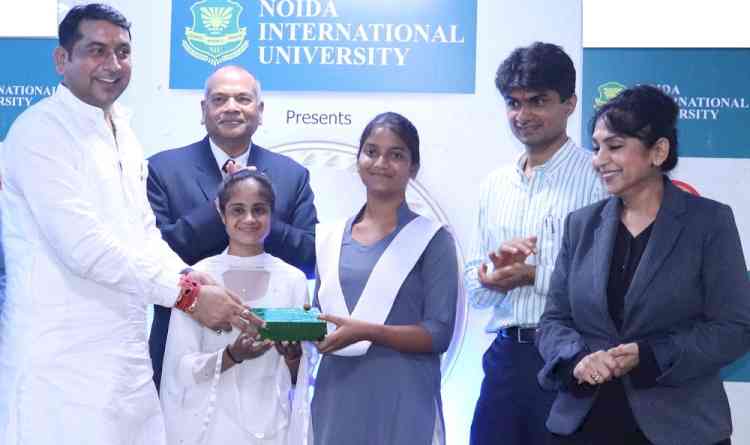 Greater Noida, August 8, 2022: Days after the announcement of the results of the Senior School Certificate Examination (Class XII), Noida International University (NIU) today facilitated around 400 meritorious pass-out students of the Delhi and NCR region at their campus for their extra-ordinary performances at an event titled 'Pratibha Samman'.
 
Somendra Tomar, State Minister, UP was the Chief Guest of the event, whereas, Suhas LY, District Magistrate, Gautam Budh Nagar was the Guest of honour. The other dignitaries included Prof. Dr. Vikram Singh, (IPS Retd) (Former DGP, UP Police), Chancellor, NIU; Prof. Uma Bhardwaj, Vice Chancellor, NIU; Dr. Parsanjeet Kumar, Pro VC and Prof. (Dr) Mukesh Parashar, Registrar.
 
The 3 hour-long event commenced with lighting the lamp followed by saraswati vandana. The dignitaries of the NIU then welcomed the chief guest and guest of honour in the august gathering with plant saplings. Both the guests honoured each student with medals and certificates
 
Tomar encouraged the students about their future, said today's youth are passionate. "Today's youth are strong and focused. If they have decided on something, they always achieve that. You all need to work hard and have discipline in life. Instead of complaining about the lack of resources in life, we need to learn how to make the best use of the limited resources."
 
Suhas LY, District Magistrate, Gautam Budh Nagar, who answered all the queries of the students present in the hall, said one should dream big and work hard to achieve success in life.
 
"Hard work and confidence are essential to achieving success. When you will walk on the path of success, you will attain many failures. Even I failed many times. But, the key to achieving success is not to lose hope.  Failures are also important to achieving success. Life is a journey of success and failure," said Suhas LY.
 
Prof. Dr. Vikram Singh, Chancellor, NIU, who also happens to be an IPS officer, recalled how his failure became a turning point in his life. "I was an average student and I remember I failed in a subject when I was in Class 9th. I used to get up at 4:30 in the morning and study that subject from my teacher. Getting up early  inculcated the sense of timeliness in me. After that, I never failed in studies. This hall is full of fresh energy and thoughts. Don't forget that a beautiful future is awaiting you all. You all are the rising stars," Dr Singh said.
 
Prof.(Dr) Uma Bhardwaj, Vice Chancellor, NIU congratulated all the students for their remarkable performance.
 
"Your hard work and discipline have paid off and these are the most important values that make a student excel at everything. We also consider these values of great importance at our university and develop their creativity and innovative mindset. To provide opportunities to such students we offer scholarship for a world class education to students who are academically brilliant and deserving but do not have the financial means to pursue a good education," she said.
 
NIU offers upto 100 per cent scholarship to the students.