Niti Aayog, Bharatiya Shikshan Mandal and LPU organised Webinar on 'Teacher's Role in NEP Implementation'   
Thousands of LPU faculty members & students participated in the Webinar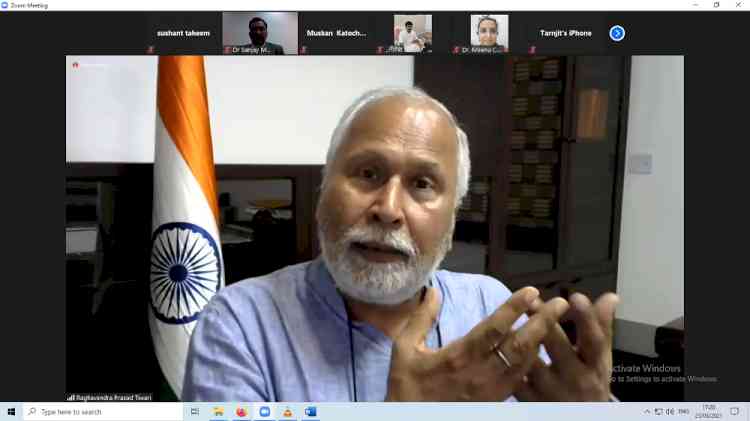 Vice Chancellor Central University of Punjab (Bathinda) Prof RP Tiwari addressing during the webinar on 'Teacher's Role in NEP Implementation at LPU'.
Jalandhar: NITI Aayog along with Bharatiya Shikshan Mandal organised a webinar on 'Teacher's role in National Education Policy (NEP) Implementation', where Lovely Professional University (LPU) collaborated for its massive impact and projection. 2500+ LPU faculty members and students from across the country and other nations participated in the Webinar virtually, where 200 of them had active participation.   
Chief Guest of the event was Vice Chancellor, Central University of Punjab (Bathinda), Prof. R P Tiwari; and, Keynote Speaker was BSM's National Organizing Secretary Mukul Kanitkar. Executive Dean at LPU's Faculty of Business and Arts, Dr Sanjay Modi presided over the event. Many other academicians from various higher education institutes also attended the webinar. The programme was coordinated by Sayonjak BSM Punjab, Prof Davinder Singh Thakur. 
V C Prof Tiwari commenced his address by referring to the deep rooted philosophy of 'Bharat (India)' which strongly believes in the crucial and respectful role of the Guru. He shared that the National Education Policy (NEP) has already been announced and its implementation is a major task ahead of all responsible. He mainly desired 'paradigm shift from 'Learner Centric Education to Learning Centric Education'. His focus was to highlight the system of education as practiced in ancient times through Gurukuls. 
Prof Tiwari underlined the autonomous nature of the Gurukuls where everything that happened or implemented in a Gurukul was the sole responsibility of the Guru (Teacher). In this regard there was no interference from any quarters.  Right from vision, mission, curriculum, comprehensive evaluation system, infrastructure, pedagogy- all were created through the ends of a teacher. He trained a set of students who further trained others under the guidance of the Guru. There used to be 100% control of the teacher.  As such, he laid emphasis on the important role of a teacher in implementation of NEP 2020 which is to bring back India' s ancient glory of a global 'guru'. He invoked teachers to be in the profession with full involvement and no compulsion. Teachers should be a part of learning, unlearning, and relearning to be ever updated as per the flow of the time.
VC Tiwari also revealed his worriedness about being laggard in novel education implementations in comparison to western countries. However, he was optimistic in affirming that if teachers are committed to reach the goal, implementation of NEP would certainly materialise, in its true spirit much before the set target of the year 2035. He emphasized that teachers should come out of their comfort zones and embrace the changes in the education scenario. 
Prior to VC Tiwari, BSM's National Organizing Secretary Mukul Kanitkar stressed that in the last 200 years or so much has been spoken and documented about the education policy of the country, now time has come to put NEP-2020 into action in a real sense of the words. Appreciating the NEP 2020 and expressing gratitude towards NITI Aayog & BSM for giving a great opportunity to LPU, Dr Sanjay Modi shared that only the teachers are key persons to bring requisite changes in the education sector.  One of the participants, Professor of History at LPU Dr Priya Sehrawat held that education should be outcome based. Mere attainment of degree regardless of its applicability or job prospects is of no use. /(March 24, 2021)