Newly constructed pathology lab inaugurated at DMCH
All the dignitaries inspect the whole renovated lab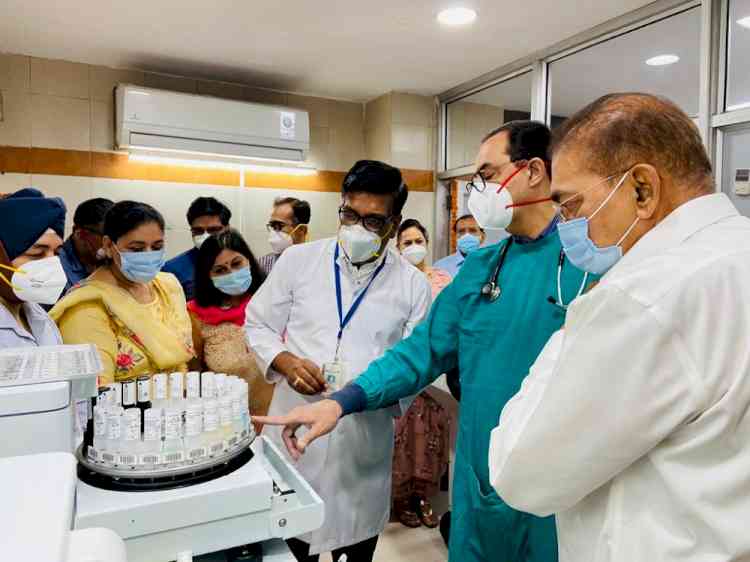 Ludhiana: Newly constructed Pathology laboratory inaugurated at DMCH today by Secretary DMCH Managing Society, Prem Kumar Gupta. Principal Dr Sandeep Puri, Vice Principal Dr G S Wander, Medical Supdts. Dr Sandeep Sharma & Dr Bishav Mohan, Dean Academics Dr Sandeep Kaushal and Surgical Oncologist Dr G S Brar were present on the occasion and a new acquired  equipment- automated immunehistochemistry stainer was also inaugurated by all the dignitaries. All the dignitaries had inspected the whole renovated lab.
Fully automated and computerized Pathology department at DMCH runs under the supervision of Dr Harpreet Kaur Puri (Professor & Head). It provides a full range of anatomic pathology tests and services.
According to secretary, DMCH Managing Society Sh Prem Kumar Gupta said that the hospital has been constantly changing its infrastructure and existing facilities and the management is committed to provide the best equipment and services to patients of the region at an affordable cost. The aim of our institution is to serve patients with the latest medical facilities.
Principal Dr Sandeep Puri said that, Pathology Lab at DMCH is equipped with fully automated and state of the art technology as we believe that every test report must be accurate to aid in the correct treatment and early recovery of patients.
Dr Harpreet Kaur Puri, Professor & Head Department of Pathology said that immunohistochemistry stainer is an automatic equipment which is used in histology to detect the presence of a specific protein marker that can assist with accurate tumor classification and diagnosis. While giving information about the functioning of the machine Dr Puri said that it is a new addition to the facility of our department as we already have one automated immunehistochemistry stainer.