New agriculture laws will have devastating effect on farmers as well as consumers
Corporate hoarding will make food out of reach of common people: Joint rally by trade unions and Samyukta Kisan Morcha against privatization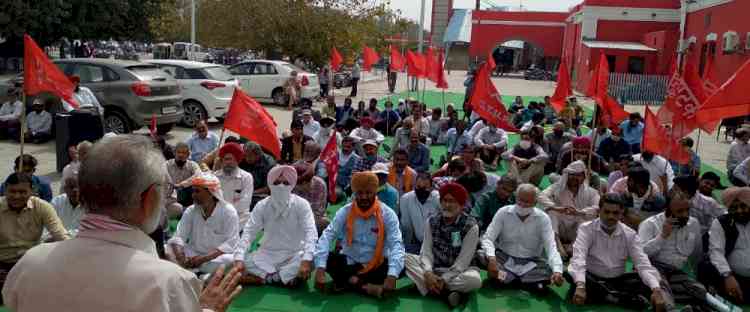 Ludhiana: A massive rally was held outside the railway station at Ludhiana today under the joint program of Central Trade Unions and Samyukta Kisan Morcha. The rally was attended by a large number of leaders and workers of ATC, INTAC, CITU, CTU and Samyukta Kisan Morcha. 
The spokespersons said that under these new agriculture laws the agriculture sector would be fully controlled by the corporate who would be allowed to hoard agricultural produce unlimited. As a result, food prices will rise skyrocket in the near future, which will have a adverse impact on the weaker and middle classes of the society. India is already ranked 102 out of 117 in terms of Hunger index and the situation will get worse. The spokespersons further said that the government has started selling to the public sector companies at rock bottom prices and is privatizing everything to the corporate sector. Privatization of banks will be very fatal for the country's economy. The government intends to hand over the banks to the corporate sector which has eaten up more than Rs 13 lakh crore of public deposits and has been forgiven by the government. On the other hand, subsidies for the common man are being abolished, which has affected the price of petrol, diesel and gas. The peasant movement has shown a way. Under the guise of Corona, the government has deprived the workers of their rights by enacting four negative codes instead of labour laws in the same manner as it has enacted laws for corporate occupation of farmers' lands. Due to the new education policy, children from weaker sections will be completely deprived of higher education. The same will happen to health services. Therefore, it has become imperative today to oppose these privatization policies of the government. 
The rally was presided over by a presidium of Swaran singh Ramesh Ratan, Sukhwinder Singh Lotte, Jagdish Chand , Kulvinder Singh . The speakers included comrades Vijay Kumar, Jatinder Singh, M S Bhatia, Gurjit Singh , Surjeet singh Sarhali, Paramjeet Singh,  Professor Jayapal, Chamkaur singh, Vinod tiwari, Balaram, Master Feroz Gurmail Meldey.