Nehru Yuva Kendra begins Fit India Freedom Run 2.0
The run was held at ancestral houses of Lala Lajpat Rai at Jagraon and Shaheed Kartar Singh Sarabha in village Sarabha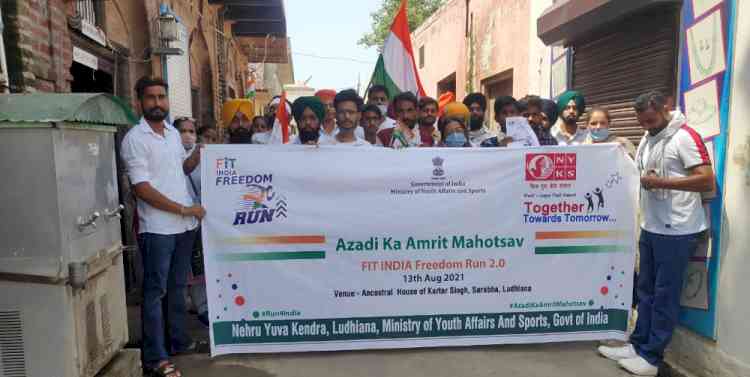 Ludhiana: Nehru Yuva Kendra Sangathan  on Friday organized India Freedom Run 2.0 under Azadi Ke Amrit Mahotsav-India 75 across the country to mark 75th anniversary of India's independence.
The run was held at ancestral houses of Lala Lajpat Rai at Jagraon and Shaheed Kartar Singh Sarabha in village Sarabha where youth took part with great enthusiasm. 
This unique event would be held till October 2, 2021 on the spirit of mass movement with public participation. It is being conducted in 744 districts of all the states and union territories of the country.
Apart from the district level race, events would also be organized in 75 towns and villages of different blocks of each district. Patriotism and pledge for good health, musical and cultural programs full of patriotism, along with other creative activities are going to be included in these programs.
The chief guest of the event was MLA Jagraon Sarabjeet Kaur also motivated the youth to incorporate fitness into their daily lives , the guest of honour. 
Raghbir Toor  an inspiring personality from the city , motivated the youth to realise the importance of fitness and not forget the sacrifices made for the independence of India.