Need for international level school in Lalru identified
The school proposed by UGI will be headed by dynamic Principal Ranjana Sharma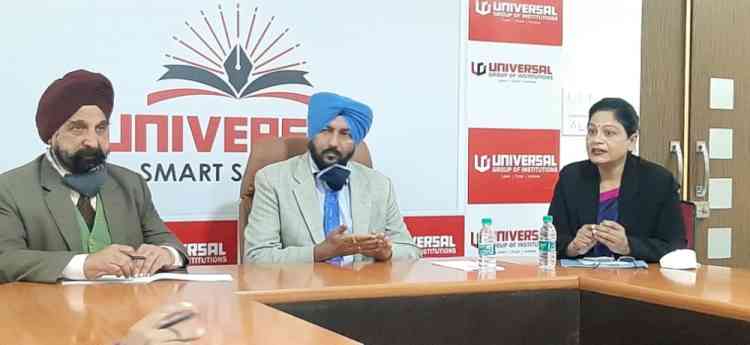 Lalru: Universal Group of Institutions has discovered the need for a school of universal standard in larlu student have to travel to Ambala and Chandigarh for quality school education
After the decade of success in the higher education in the area of engineering, Nursing, pharmacy, Law , Arts,etc have decided to come up with a smart school with an ambition of making the student ready for the global competition. The focus will be on "learning by doing", communication and presentation with clear understanding of fundamental so that student are ready to take up higher education in field of their interest.
The need for such a school has been also expressed by the resident during the survey conducted by team of professional in the nearby villages
The school proposed by UGI will be headed by dynamic Principal Ms Ranjana Sharma supported by Universal Group of institution of excellence that nurture intellectual academic pursuits, provides adequate opportunities for co-curricular and extra –curricular activities and creates a conductive environment for overall development of young inquisitive minds when they enter the portals of this vibrant institution. No wonder we will send out some of the brightest minds into the world, who carry their education no matter where they go. As it is said Healthy Mind lives in the Healthy Body. So to make them fit we have the trained coaches and lush green play grounds where they can play cricket, Football, Kho-kho, Basketball, Kabaddi etc. School will try its best to take the students up to National and State Level.
Chairman of Universal group Dr Gurpreet Singh said that the Motto of the smart school would be: "Learning by Doing". To prove it management will use technology at its best and provide Varity of sports facilities and extracurricular activities.
It is said, "Though one can go back and make a brand new start, anyone can start from now and make a brand new ending" the future of our children lies in our hands, let us jointly hold hands and make them true human beings. Worthy of all mankind and achieve high level of living, involving our mind, intellect and consciousness. We have already been practising it from last decade. Our versatility is proved in abroad also.
School will prepare the students for different competitions including NDA, IIT etc.  In Smart classes students will watch movies and videos related to the topic and understand the concept more easily. Our school shall reach the students as well as parents through ERP. Latest updates can be informed to parents on daily basis. They will check the child test record, home work, attendance, planner, activities pictures, assembly presentations, information about the school, staff and Principal. This will involve the parents to great extent 
The school will constantly strive for growth of the students in all spheres. With unflinching faith, undaunted spirit and undeterred efforts the school will march ahead in its tryst with destiny.