NCC Addl. DG  Major General Rajiv Chhibber visited Lovely Professional University
Motivated LPU students and Zone's NCC cadets to contribute their best in nation-building by staying focussed, nurturing positivism & unleashing their potential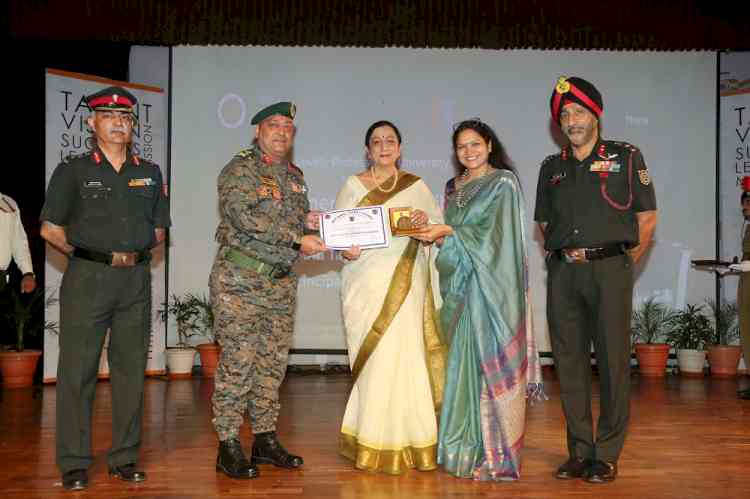 NCC Addl. DG Major General Rajiv Chhibber & LPU Pro Chancellor Rashmi Mittal felicitating KMV College Principal Dr Atima Sharma Dwivedi for best institutions for NCC activities during an occasion on 'Youth Talk on Nation Building, and Principals & ANOs Conclave' at LPU campus".
Jalandhar, August 17, 2022: National Cadet Corps' Additional Director General of Punjab, Haryana, Himachal Pradesh & Chandigarh Directorate, Major General Rajiv Chhibber, SM, visited Lovely Professional University (LPU), today. Here, he interacted with thousands of LPU students and NCC cadets of the zone.
This occasion was 'Youth Talk on Nation Building, and Principals & ANOs Conclave' at LPU's Shanti Devi Mittal Auditorium which was organized by NCC Group HQ Jalandhar, in association with LPU-NCC, under the aegis of the Student Welfare wing.
Motivating LPU students and Zone's NCC cadets through a powerful presentation, Major General Chhibber invoked all to contribute their best in nation building by always staying focussed, nurturing positivism & unleashing their potential for making India the most powerful. Interacting with students, the officer informed that there is no disparity of gender in NCC. He also shared how they can further their career in Military services by inspiring all that the "military profession is the best profession to serve motherland". Expressing pride to be a military man, he also informed that no doubt it's challenging, yet it is adventurous.
Lauding LPU "as a pioneer leader of education among all universities of the country", Maj Gen Chhibber shared that students are fortunate enough to become part of such a prestigious university in the country. During his visit to the campus, Maj Gen Chhibber also interacted with LPU Chancellor Dr Ashok Kumar Mittal who apprised the visitor that LPU has one of the best placement records in the country and has been ranked amongst the top 74 universities globally in the Times Higher Education Impact 2022 ranking.
Pro Chancellor Rashmi Mittal welcomed the elite officer at the campus, along with other top ranks accompanying him. Mittal thanked the high ranks for lending grace to the campus and apprised all that LPU is determined to pave the best ways for its students. "We motivate our students to think big from the very first day of their joining the university", shared Mittal.
During the felicitation programme, Maj Gen Rajiv Chhibber and LPU Pro Chancellor Rashmi Mittal presented certificates, medals and mementoes to the best institutions for NCC activities. Various Principals, ANOs and cadets who had contributed to services in national programmes were there to be part of this ceremony. Jalandhar Group Commander Brigadier IS Bhalla and Colonel Navjot S Sidhu also graced the occasion.
Worth mentioning that in his 33 years of service, Maj Gen Chhibber has held prestigious command and staff assignments. He has held critical assignments at division, corps and Army Headquarters levels. A veteran of the 1999 Kargil conflict, he was awarded the Sena Medal for controlling insurgency and trans-border trafficking in the northeast. The Chandigarh-based Directorate comprises eight Group Headquarters located in Punjab, Haryana, Himachal Pradesh and Chandigarh, covering 56 districts and imparts training to almost 1.5 lakh cadets in 2,000 colleges and schools.